Decision To Leave Review – Sometimes it happens that we are attracted to someone who might not be the correct choice but the attraction we feel is beyond comprehension. It is dangerous, and one is well aware but it is very enticing at the same time. There is an odd push and pull one faces and choosing either option would only lead to one's destruction.
Park Chan Wook has been one of the pioneer filmmakers in putting South Korean cinema on a world map. He makes brilliant use of the vast landscapes available at his disposal to heighten the emotions that each character goes through. His movies break away from the stereotypical notions of movie making and incorporate elements that some might even call 'unsettling'.
Before we proceed further, if you are new here, please subscribe to our magazine – Just A Library to receive the most recent updates and newsletter.
LIKE WHAT YOU READ? WHY NOT SUBSCRIBE?
---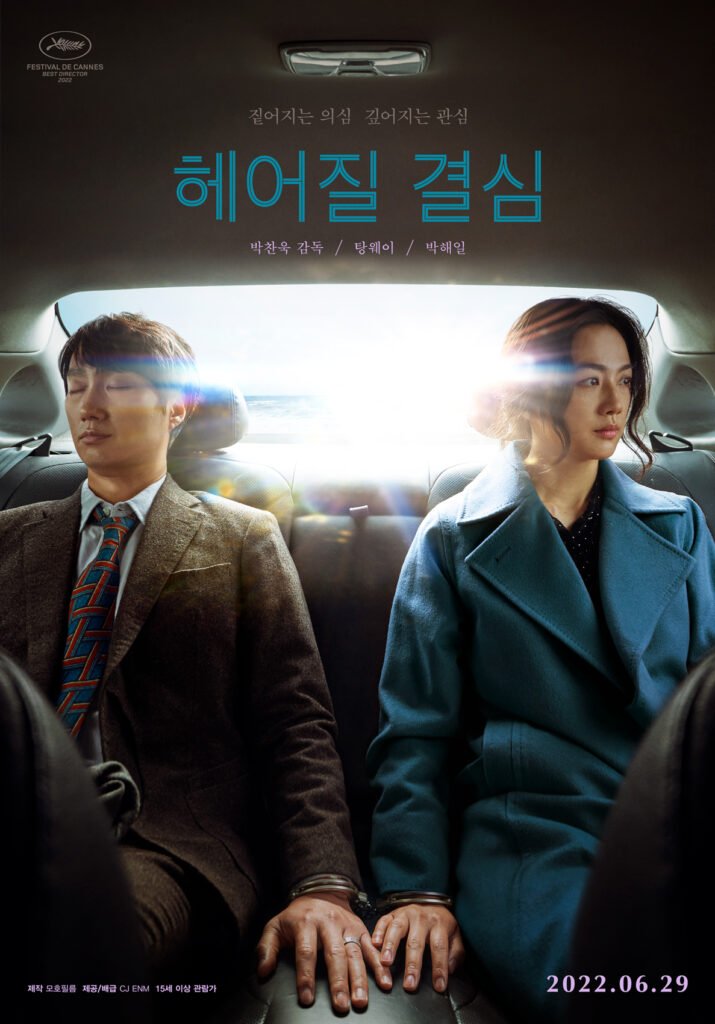 Decision To Leave Review
Park Chan Wook's latest movie 'Decision to Leave' spawns a story on this attraction. The movie tells a thrilling and twisted tale of romance of a detective named Jang Hae Jun who is attracted to Song Seo Rae, a Chinese woman who is a suspect in one of his murder cases. There is a raw vulnerability that our leads possess in each frame.
Despite touching upon the cliché trope of a cop falling for a suspect, 'Decision to Leave' contains a lot of layers upon closer inspection. The incorporation of psychology into this ill-fated and ill-timed romance is a brilliant way to show how our emotions can be very well manipulated.
Jang Hae Jun suffers from insomnia, meets his wife only on weekends or vacation days, and also has an image collage of the unsolved cases he handled. Jang Hae Jun goes by the book when solving his cases but there's something about Song Seo Rae that makes him cross the line. Song Seo Rae was illegally came into South Korea from China. She decided to remain in South Korea in hopes for a better future and ended up marrying her now-dead husband.
She works as a caretaker nurse for the elderly and has a good reputation at work. When her husband is found dead, she becomes the prime suspect in the case and there are strong reasons for the same. Hae Jun and his team have their doubts on the woman and they almost end up solving the murder but Hae Jun goes soft when he is near Seo Rae. He explicitly helps her steer the evidence away from her so that she can start afresh.
Both Hae Jun and Seo Rae are attracted to each other in a way which cannot be defined using the twenty-six letters of the English alphabet. Their relationship becomes much more than a sexual attraction as it manifests into something much deeper and psychological. Seo Rae puts Hae Jun to sleep to the sound of her breathing and after that only Seo Rae's breathing sounds becomes Hae Jun's sole escape from insomnia.
Some might say that 'Decision to Leave' is not the best of Park Chan Wook's work but it still packs that iridescent punch of morality and life that is synonymous with his work. Park Hae Il and Tang Wei compliment each other beautifully in their roles. It would be great to see the pairing again on screen.
About Decision to Leave Cast
'Decision to Leave' stars Park Hae Il and Tang Wei in lead roles. Park Hae Il rose to fame with movies like 'Memories of Murder', 'War of Arrows', 'A Muse', to name a few. Tang Wei is a Chinese actress known for her roles in movies like 'Late Autumn' and 'The Golden Era'. Director Park Chan Wook is a celebrated South Korean filmmaker known for his works like 'Oldboy' (2006) and 'The Handmaiden' (2016). The movie also stars Go Kyung Pyo in a supporting role. He is known for his roles in dramas like 'The Strongest Deliveryman' (2017) and 'Love In Contract' (2022). 'Decision to Leave' is available on Amazon Prime.
What are your comments on the movie Decision to Leave? What other movies of Director Park Chan Wook have you watched? Let me know in the comments below.
LIKE WHAT YOU READ? WHY NOT SUBSCRIBE?
---
Are you passionate about writing and looking for a platform to raise your thoughts, reviews, and suggestions to the wider world? Don't worry! We got your covered!! Join us under our GUEST AUTHOR PROGRAM and start writing right away! – Click here to know more.
You Might Also Like
WHAT'S YOUR REACTION ON THIS?