Queens on the Run Review – There is romance, there is comedy, there is slice of life and then there is chick-lit. Chick-lit movies are something that are perfect for a girls' night out or a lazy Sunday binge. Despite carrying a similar strain of content spread across the stories, a chick-lit movie seldom fails to amaze despite its predictability. One of the latest chick-lit movie to hit the block is Netflix's 'Queens on the Run' aka 'Fuga de Renias'. This Spanish-language comedy film's story is exactly what you would expect from a on-the-spur road trip of four female friends in their later thirties or early forties.
Also Read: Kill Boksoon Review: A stunning tale of morals and murder
Queens on the Run Trailer
Queens on the Run Summary
'Queens on the Run' aka 'Fuga de Renias' tells the story of four friends who are either married or looking for love. Despite being married, they are not happy currently in their marriages. Frustrated by their lacklustre lifestyles, the four friends one day revisit a 'to-do' list they had made in their younger days and decide to leave on a road trip to complete that list. On their impromptu journey, they encounter people, both interesting and dangerous. They come face to face with the reality they have been hiding from and at the end of the movie, they come out as individuals better than their yesterday's selves.
Queens on the Run Review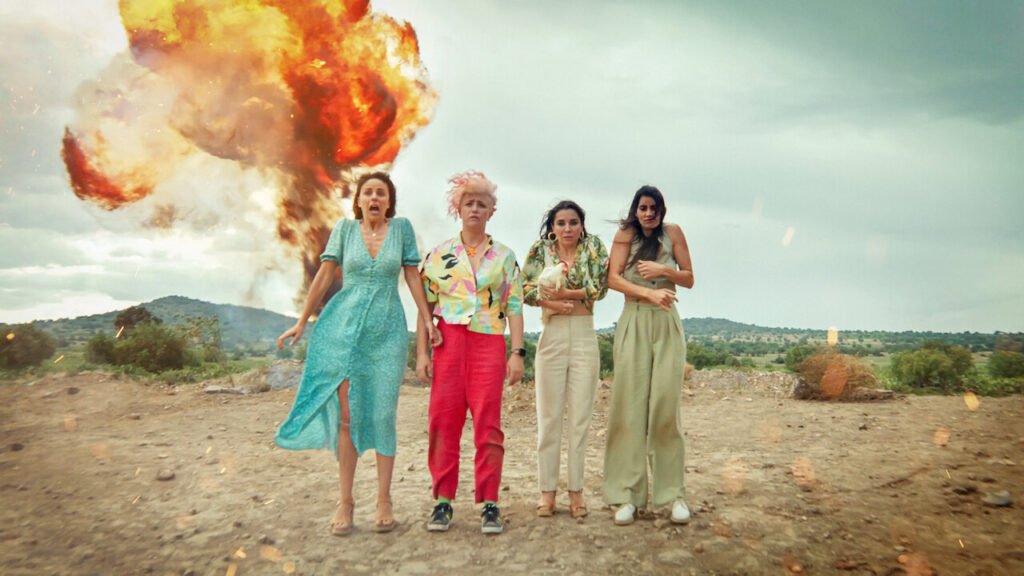 'Queens on the Run' is a fun one-time watch, perfect for a girls' night out. This Spanish-language movie packs a fun punch of laughter, struggle, love and friendship. It begins by introducing us to the fabulous four women – Paty, Marilu, Estrella and Famela – whom we will be following on a rollercoaster journey to re-discovering their true selves.
Also Read: A Todas Partes Review (All The Places Review) – A Tale of Estranged but Strong Sibling Bond
We find the quartet taking a stray chicken under their wing, jamming to pop hits in the car, flirting with men, and also fighting off a criminal, all in a span of 96 minutes. 'Queens on the Run' is quite a funny and apt title for the film because each of the four characters in the films are queens in their own right. While Paty, Marilu and Famela married seek resolution for their marital woes, Estrella the on the other hand is looking for someone to call her 'beau'.
We also see a small conflict resolution amongst the friends. The comic timing is on point and does not overshadow the issues at hand. While the movie can be passed of as a comic caper, it does shine light on women who are stuck in loveless marriages, or marriages which have lost their spark over the years. It clearly sends a message across that whatever the issues are, a healthy communication with your partner can help resolve most of those. Sometimes, all it takes is one wakeup call to realise if one's efforts all this while have gone to waste or if there is something left to salvage and rebuild upon.
Sure, one can argue that all that is shown in the movie is not plausible on a regular basis. But then again, this movie is not something which runs on the 'regular' fuel. While we do have conflict resolution and a solid depiction of female friendship, the encounters our characters go through are no less than plucked out of an imaginative tale.
As the movie progresses, we see noticable character development, and also peek into the strong bond between the four women. The pacing of the film is not too fast, which makes it suitable for a quick binge. The color palette is sprinkled with brights shades and pastels, reflecting the free-spirited nature of the film. The red convertible that the quartet take for their road trip is classic must-have for a movie of this genre. All in all, 'Queens on the Run' is that chick-lit movie that you didn't know you wanted. It transcends the barriers of language and touches upon the relative tones of female friendship and marriage.
Queens on the Run Cast
Martha Higareda stars as Paty Fenix, a trophy wife to an arrogant and self-centred assemblyman Esteban. Alejandra Ambrosi stars as Marilu Davila, a house-wife who sacrificed her dreams and aspirations for her husband and children. Then there is Valeria Vera who plays Estrella Solares, the only one not yet married amongst the quartet. She is funky, quirky and still looking out for love. Lastly, we have Paola Nunez who plays Famela Guerra, a complete workaholic who disregards her husband and is on a quest to get pregnant. Each of these characters are different from one another, but when they come together, it is like they collectively share the same brain to make any decision.
Queens on the Run – JAL Rating
JAL gives 'Queens on the Run' 3 out of 5 stars for its content, execution and entertainment levels.
Have you watched 'Queens on the Run'? What do you think of the movie? Which other chick-lit movies do you like? Tell us in the comments below!
You Might Also Like
WHAT'S YOUR REACTION ON THIS?