SpaceX Reusable Rockets Explained – Elon Musk's SpaceX reusable Falcon 9 rockets have been a groundbreaking development for the world of space travel. Through the use of selectable landing engines and innovative technology, these rockets can be used multiple times to reduce the cost of each mission. Learn about how these rockets work and the mechanics behind them here!
Before we proceed further, if you are new here, please subscribe to our magazine – Just A Library to receive the most recent updates and newsletter.
LIKE WHAT YOU READ? WHY NOT SUBSCRIBE?
---
A Closer Look on the Falcon 9 Engines
Falcon 9 is powered by nine Merlin engines, each of which is designed to produce just the right amount of thrust for liftoff. For maximum energy efficiency, the Merlin engines are group-throttled to run at different levels depending on their location in the rocket — those near the bottom will burn more fuel than those near the top. This helps optimize how much propellant is used during launch and maximizes safety. Now that you have some idea on the engines, the below info can give you a brief explanation on how the SpaceX reusable rocket works.
How SpaceX Reusable Rocket Works
If you take Falcon 9 for example, it is a three-stage design, meaning it includes three distinct stages which must be used in sequence for a successful liftoff. The initial stage, or the first stage, houses the nine Merlin engines. This stage provides the necessary thrust to achieve lift-off and typically burns for about seven minutes before separating from the vehicle and landing back on Earth for reuse. The second stage then ignites its single engine to continue powering the craft into orbit, while the third stage provides additional propulsion if needed.
In order to make sure the Falcon 9 booster rocket is stable during its return flight, two fixed fins are attached to it. These are mounted near the base of the booster and can be seen at the tip of each side. Each fin is oriented in lengthwise direction and comes equipped with four actuators that move when guidance from onboard computers direct them. As these fins tips move, they act like rudders on a boat by directing the flow of air around the craft. This helps control its trajectory as it descends back to Earth.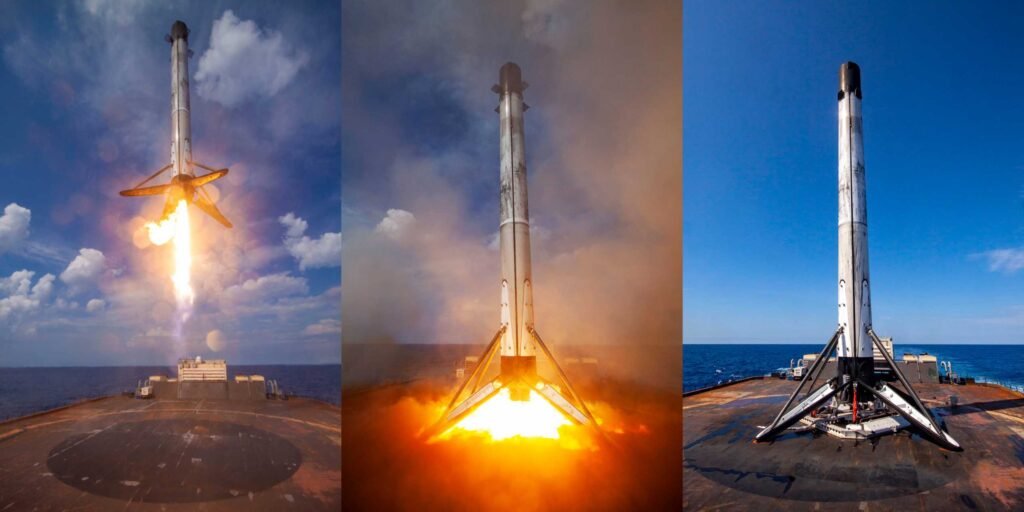 Looks astonishing, innit? If you are so, you should check out how SpaceX's Starship is making the Sci-Fi into a Reality – Click here.
While Falcon 9 is capable of interplanetary space travel, its bigger brother Falcon Heavy takes the game to a whole different level. Equipped with 27 Merlin engines, Falcon Heavy can propel heavier payloads and longer distances. This makes it incredibly useful for larger, more complex missions like sending a suitably stocked mission to Mars or another planet in the solar system. With an impressive thrust rate power of 5.1 million pounds at launch and 4.7 million pounds during landing, Falcon Heavy has all it takes for long distance voyages.
The most impressive feature of the Falcon 9 rocket is recoverability and reuse, an engineering feat that has revolutionised space flight. By recovering the first stage of their rocket, SpaceX is able to reduce cost and time spent on future launches. This involves complex technologies such as deployable grid fins, hypersonic grid fins, drag brakes and friction-dampened landing gear. After the initial launch phase, these technological advancements help slow down the rocket's descent enough to achieve a pinpoint landing safely back on Earth.
Below is a video from Space.com, a booster cam time-lapse which clearly explains what happens in each stage. I hope this video explains the concept in a much more understandable manner.
SpaceX Reusable Rocket Landing – Falcon 9 Booster Cam Time-Lapse
LIKE WHAT YOU READ? WHY NOT SUBSCRIBE?
---
What are your verdicts on the SpaceX reusable rockets? Let me know your thoughts and findings in the comments below.
You Might Also Like
WHAT'S YOUR REACTION ON THIS?