Stromboli Movie Review – It is said that you should face your fears to conquer them. But it is always easier said than done. Sometimes it takes a lot of persuasion and support from others to take the leap. Facing the fear eventually does purge one of that fear, but going through the motions once again can be quite scary.
The movie Stromboli on Netflix is a testament to this claim. It tells the story of Sara, a middle-aged Dutch woman on a trip to Stromboli in Italy. She initially went with the aim to just get drunk and forget her worries, but she stumbled upon a self-help group one night. This self-help group helps her overcome the issues she has been running away from. Stromboli is a scenic hamlet in Italy and it boasts of aesthetic avenues for people to soak in the Mediterranean sun.
LIKE WHAT YOU READ? WHY NOT SUBSCRIBE?
---
Stromboli Movie Trailer
Stromboli Movie Plot
The movie Stromboli is all about the journey of self-discovery and facing one's fears. Elise Schnapps plays the role of Sara who is on a vacation to the volcanic town of Stromboli in Italy. Upon her arrival at the picturesque Italian hamlet, the first thing she does is drink alcohol instead of some water. She clearly is going through turmoil and acts on an impulse. After spending an evening with a strange man, Sara goes back to her room in an inebriated state and ends up creating a mess there. She gets thrown out with nowhere to go. She takes refuge in a church for the night.
ALSO READ: Gunther's Millions Review – Millionaire, but at what Cost?
There she meets Jens who takes her to the same place she dropped the stranger off the previous night. A bunch of people have already settled there to embark on a journey to face their inner demons and purge themselves of that anger, fear, and other negative emotions. There, Sara faces her fear. As a young woman, she was molested at a party. During her daughter's birthday, she sees a boy getting close to her daughter and she flies into a rage. She throws the boy out of the house. Sara also is addicted to drugs, and alcohol and also cheats on her husband. After those incidents, she has a rocky relationship with her husband and her daughter too.
After a few days of intense self-help sessions with Jens, Thandi, and others, Sara learns to embrace her fears. She decides to let go of her guilt. She settles her issues with her daughter and also sobers up. Along with Sara, the other members of the self-help group also learn to come face to face with guilt and trauma that has been weighing them down all their lives. After those few days in Stromboli, Sara makes a new set of friends whom she can count on. She is much more calm, collected now and she also sets her records straight with the owner of the place she initially stayed at.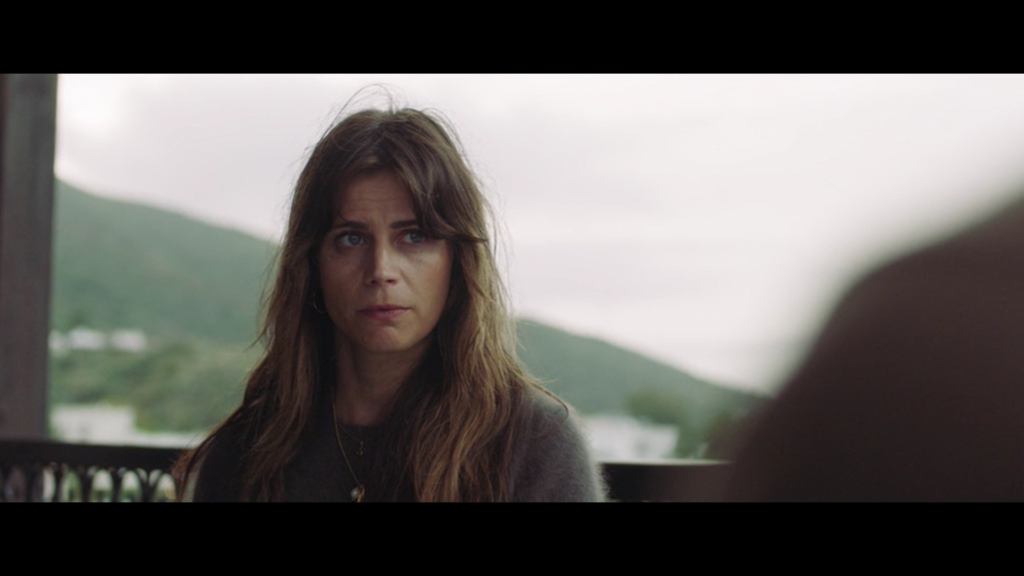 Stromboli Movie Review
Stromboli is a movie you have to watch if you want encouragement, persuasion, and support. The movie moves something in the audience's mind which makes them vulnerable but at the same time very strong. Elise Schaap as Sara is a delight to watch on screen. She nailed the role of a troubled woman who is suffering from alcoholism, filial issues, and also a deep settled trauma from her younger days. Stromboli provides a shoulder to the tired soul, it works like a balm on the wounds, it helps you finally cry those tears you've been suppressing inside.
ALSO READ: Bank of Dave Movie Review: Is Bank of Dave a True Story?
Sure, some might find the practices of the self-help group to be very intense, a little unnerving, and perhaps also not conducive to everyone's mental health. But it all depends on the person opting for it. For Jens, Thandi, Sara, and others in the self-help group, these exercises – of describing their trauma, of having a dialogue with the one they have unresolved issues with, of lying to another person and feeling their weight – they worked out for them. All of this eventually boils down to what practice or routine one is willing to adopt to purge oneself of the fear and be free from the shackles of trauma.
Stromboli does not advocate a set style of exercises to overcome a trauma. Instead, it provides an outlet, an option for those seeking respite. The movie is definitely not something all of us would be comfortable watching for it does have vivid descriptions of sexual assault, physical violence, suicide, and deep-settled trauma.
Stromboli Movie Review –

JAL Rating
JAL gives Stromboli a solid 4 out of 5. This Elise Schaap-starrer film is a must-have on your watchlist. Who knows? Perhaps it might help you peep into yourself and go on a journey of self-discovery!
Which other films of similar themes have you watched? Tell us in the comments below!
LIKE WHAT YOU READ? WHY NOT SUBSCRIBE?
---
You Might Also Like To Read
WHAT'S YOUR REACTION ON THIS?