iOS 16 Review
After months of beta testing, Apple has officially released the final version of iOS 16 (along with watchOS 9 and tvOS 16). It includes all of the new features introduced in iOS 15, such as SharePlay and Focus, as well as increased customisation, such as new edit and undo send tools, a fully customized Lock Screen, and much more. Keep reading to learn about its features, compatibility, and how to update and configure new features on your iPhone.
Compatibility
Basically, you can download and operate iOS 16 if you have an iPhone 8 (2017) or newer (including the second- and third-generation iPhone SE). However, not every feature in the update will be available on your iPhone, as some capabilities, such as Live Text, are only available on iPhones powered by an A12 Bionic chip or newer.
HOW TO INSTALL iOS 16?
On an iPhone, The quick version to install iOS 16 is – Navigate to Settings > Select General > Select Software Update. The update will be available there; simply follow the steps to install it.
WatchOS 9 requires iOS 16 or later on an iPhone 8 or later. Then, in the Watch app, go to General > Software Update to start the installation. To complete the update, place the smartwatch on its charger.
NEW FEATURES
#1 New Customizable Lock Screen
The most notable feature of iOS 16 is the ability to totally customize your Lock Screen. You can now customize your Lock Screen with widgets, unique fonts and colours, and other filters. You can also build many Lock Screens and swap between them quickly. The various Lock Screens can also be linked to Focus Modes, so they change automatically when you change Focus Modes.
Third-party apps can also interface with Lock Screen widgets in the same way that widgets on your Home screen do. Some of our favourite apps have already added support for Lock Screen widgets, and there will be more in the coming weeks.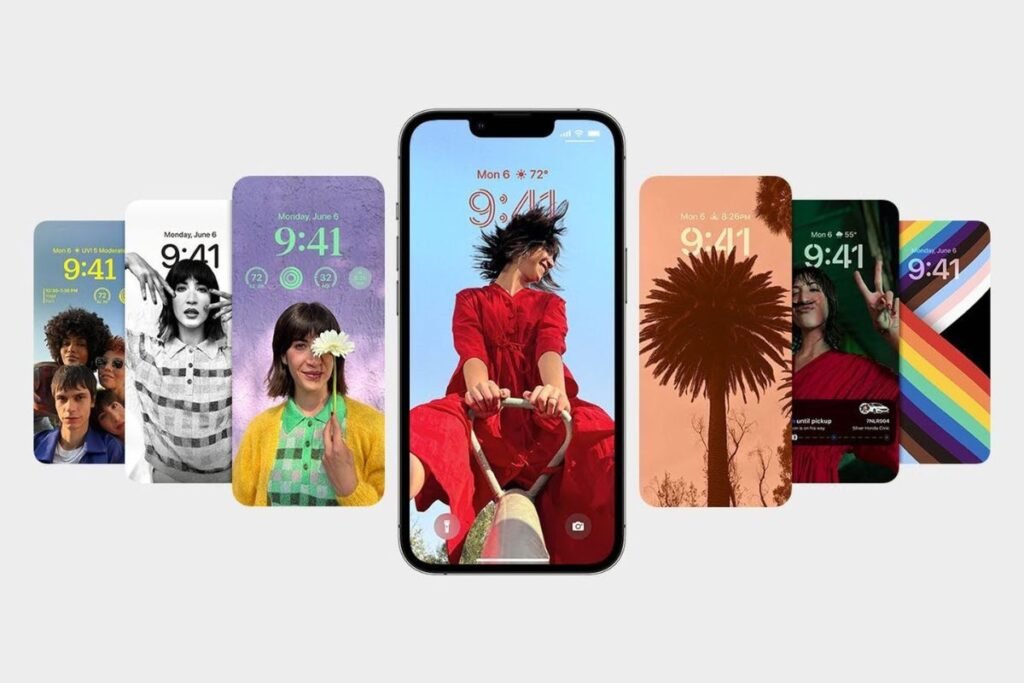 Along with the new Lock Screen personalization choices in iOS 16, Apple has also added new wallpaper selections. These options include a new default wallpaper, new Pride and Unity collections, as well as new Weather and Astronomy collections. The Weather and Astronomy collections are especially entertaining because they provide live data for your current location.
Below are the steps to customize your lock screen:
Long-press on your Lock Screen if you are already in iOS 16.
You'll need to create a new one to do a custom lock screen if you are using an old wallpaper.
Tap the blue + icon in the bottom right corner.
Pick a wallpaper from the top categories or swipe below to view all options.
Tap the + icon under the time to select widgets.

Recommended widgets are at the top, more choices by category below.

Tap the time to customize the font and colour.
Tap the date to add a widget up top.

Choices include Calendar, Clock, Fitness, Reminders, Stock, and Weather.

Make the changes and then you are all set. You now got a wallpaper like an android phone 😂.
#2 NeW FEATURES ON iMessages: Undo send and edit
iOS 16 also adds two long-awaited iMessage features: the ability to unsend and modify messages. In response to abuse concerns, Apple made several improvements to these functions throughout the beta testing phase.
To amend or unsend an iMessage on iOS 16, simply long-press on the message after you've sent it. You can cancel an iMessage up to two minutes after it has been sent. Other iMessage users will be able to see that you unsent a message, but they will not be able to view what that message stated.
POSTS YOU DON'T WANT TO MISS
#3 Focus modes
Lock Screen, widget, and notification settings can now be linked to Focus modes. Swiping to a specific Lock Screen will activate the associated Focus mode. Apple recommends "a data-rich Lock Screen when utilizing the Work Focus or a photo Lock Screen while using the Personal Focus."
There are also Focus Filters: for example, if you're in work Focus mode, you can opt to see only the Safari tabs related to a project you're working on, or to filter out irrelevant messages in Messages and Mail. Again these features might sound too basic for android users, but we just have to go with the flow again.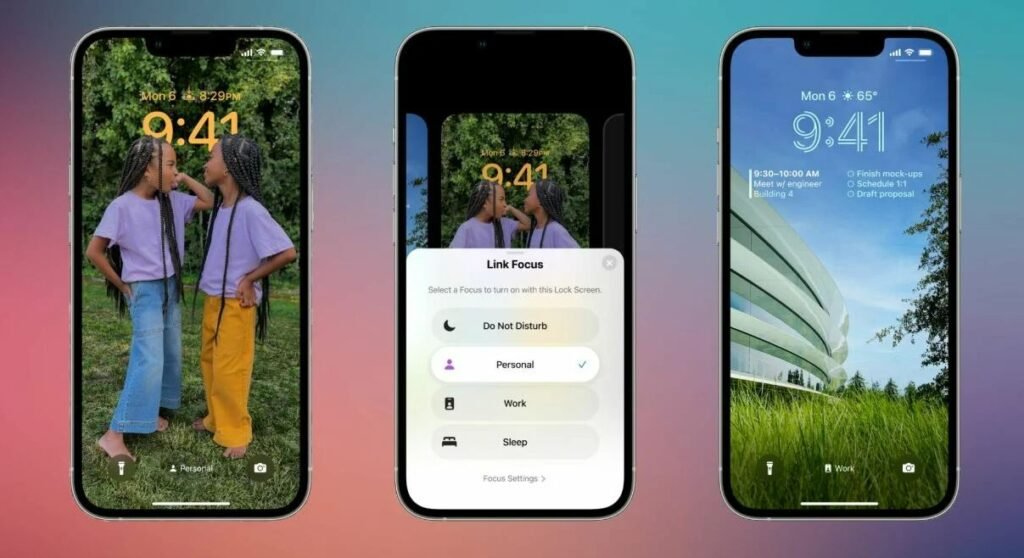 #4 More privacy and security
One of the most significant changes is what Apple refers to as Safety Check. This is a new feature in the Settings app that allows persons experiencing domestic or intimate partner violence to rapidly reset the access they've provided to others.
Safety Check allows you to disconnect from people, apps, and devices you no longer wish to be connected to if your circumstances or trust levels change," Apple adds. This enables you to rapidly reset access for all persons and apps, as well as assist you in reviewing your account security. You may also control who and what apps have access to your data.
#5 Notifications
In iOS 16, Apple has also revamped the notifications system, particularly on the Lock Screen. Notifications now appear at the bottom of the screen, according to Apple, which is intended to show you more of your wallpaper and other personalization options.
There are three notification settings in the Settings app: counts, tack, and list. Count displays the total amount of notifications, stack arranges them into a single stack per app, and list is the notification system that iOS has used for years.
#6 Passkeys
iOS 16, along with planned updates to macOS Ventura and iPadOS 16, promises to eliminate our need on usernames and passwords entirely. Passwords are one of the weakest links in digital security today, and Apple is adopting the new passkey standard in an effort to move forward.
The flow for logging in with a passkey will be similar to that of using iCloud Keychain and Face ID or Touch ID, with the exception that instead of selecting a credential from iCloud Keychain and auto filling your password and username into text fields, you'll select (or create) a passkey as your login method. Passkeys are synced across your devices using iCloud Keychain with end-to-end encryption, so even Apple cannot access the data.
#7 battery percentage indicator
This may seem minor, but many iPhone owners were irritated when the useful battery % indicator vanished from the top of their smartphones' screens in 2017. (Of course, the notch on the iPhone X was to blame.) Those users will be relieved to hear that it's returning in iOS 16, on select handsets only.
#8 AND MUCH MORE
The above are only some of the notable features from the iOS16 update and there are so many other features like changes to Siri and other dictation upgrades, cutting objects from images, changes in all other apps, etc. You can find more detailed updates and features additions can be found here – Apple iOS 16 Features list.
OUR VERDICT
Personally, I am really excited about the passkeys feature. Imagining a world where we don't need to memorize our usernames and passwords is sounds crazy but I am sure that will be far more secure than today's security features. Apart from that, I am also surprised to see Apple bringing more personalization and customizations to the front end.
What are some of the iOS 16 features you are most excited to try? Let me know in the comments below.
Oh. I almost forgot. There will be more features coming later this year. Stuffs like Apply pay later, a new Freeform App, and much more. So, stay tuned to Just A Library.
WHAT'S YOUR REACTION ON THIS?