The Inheritance Games Summary and Review
Tobias Hawthorne is a Billionaire from Texas, with two daughters and four grandsons. He rewrote his will, twenty years ago after the death of his only son Toby Hawthorne, stating upon his death, Avery Kylie Grambs will inherit his fortune not his daughters or grandsons. What changed after the death of Toby Hawthorne? Why did Tobias leave behind his fortune to Avery.? What is Avery's relationship to the Hawthornes? What is the puzzle piece they are missing?
Tobias Hawthorne leaves an envelope each for his grandsons and one for Avery giving them their last puzzle.
The Inheritance Games Characters – The Inheritance Games by Jennifer Lynn Barnes
Who is Avery? 
Avery kylie Grambs, is a teenager from Connecticut who lives with her elder sister, both of them trying to make ends meet. She sleeps in her car on days she doesn't want to face her sister's boyfriend. Heirs to the empire, the four brothers Nash, Grayson, Jameson, Xander exude confidence and power. The brothers had a special relationship with their grandfather. Every Saturday Tobias Hawthorne would arrange a series of puzzles, games and riddles for his grandsons to solve. It was his way of shaping his grandsons into capable individuals.
"If there's one thing the Hawthorne family isn't, it's fine. They were a twisted, broken mess before you got here, and they'll be a twisted, broken mess once you're gone." To talk of the Hawthorne brothers, Nash the eldest of them is not interested in Hawthorne empire. He has a savior complex.
"Nash is a bit of a nomad. He leaves. He wanders. He finds some hole-in-the-wall place to bartend for a while, and then, like a moth to the flame, he comes back—usually with one or two hopeless souls in tow." Grayson is the heir apparent. He is dutiful, protects his family before anything or anyone else. He knows his power and the responsibility that comes with it.
"The world bent to the will of Grayson Hawthorne. What money couldn't buy him, those eyes probably did." Jameson Hawthorne, the one who is in constant need of thrill, answers and loves the games. "Jameson Winchester Hawthorne is hungry. He's looking for something. He's been looking for it since the day he was born"
Xander the youngest of them is a certified genius. With patents under his name he is a robotic genius. He is the kindest Hawthorne who loves scones, stories and the best one among them. I am a human Rube Goldberg machine," he said. "I do simple things in complicated ways
From the second chapter the question remains. The secrets unfold and answers are found in a series of 3 books. The Hawthorne House is a mansion with secret passageways, tunnels and answers written on walls. I absolutely loved how the story progresses, with every chapter uncovering answers to the puzzle that Grandpa Hawthorne had created.
Also Read: Final Offer By Lauren Asher Book Summary and Review
What I liked:
I finished the series in three days. Avery the protagonist is beautifully written. She struggles with the insecurity that she is not special in any way. Every character that makes an appearance has a story and history of their own. The story is fast paced. The bond between the Hawthorne brothers wasn't particularly conventional. I loved the scenes between the four of them,especially the ones with Xander. Jameson and Grayson's story before Avery came into their lives: the mistakes they made, their remorse, the guilt, the consequences they had to face was great to read.
Is The Inheritance Games Worth Reading?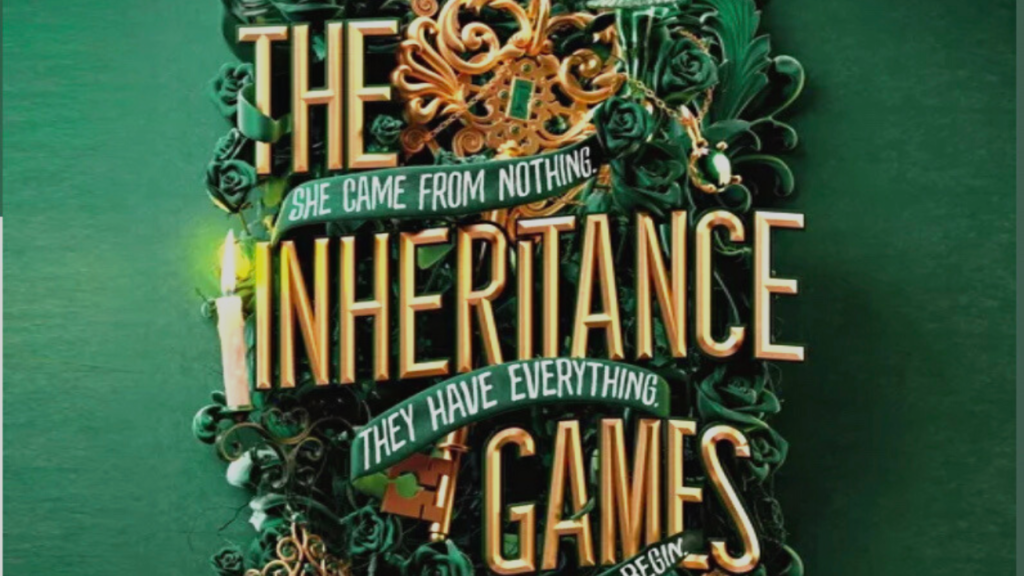 In the inheritance games, you will see a triangle between Avery, Jameson and Grayson. The readers root for both of them, I know I did. There isn't anything in particular I don't like in the first book. It's a great start to the series. It ends on a cliffhanger, you will want to start the next book immediately.
This book is definitely worth your time, If you love solving puzzles and finding answers to the mystery along with our characters this will keep you on your toes and constantly guessing. But if you are someone who likes watching them run around for missing pieces you will definitely enjoy this ride.
The Inheritance Games – JAL Rating
This is a solid 4.5 from me and Just A Library, only because I guessed the ending. My brain is constantly creating scenarios and working, that is probably why I could guess. Otherwise it's an amazing read.
Have you read this book, the inheritance games? What are your thoughts? Let us know in the comments below.
Also Read: The Midnight Library Book Summary and Review
Some of my other articles
WHAT'S YOUR REACTION ON THIS?