Arthdal Chronicles Season 2 Review – Legends sing and dance to the tale and might of Arth's mythical hero and god, Aramun Haesulla, in Arthdal Chronicles Season 2: The Sword of Aramun. Tag along for the adventurous Macbeth-ian journey of Jang Dong-gun's mighty and treacherous Tagon, Lee Joon-gi's Eunseom's metamorphosis from Inaishingi to Aramun Haesulla, Kim Ok-bin's ever ferocious Taealha, and Shin se-kyung's knowledgeable and opportunistic Tan-ya in our Arthdal Chronicles Season 2 Review!
Arthdal Chronicles Season 2 Trailer
Also Read: Arthdal Chronicles Season 1 Review – A Tale of Love and War
Arthdal Chronicles Season 2 Review
The one of a kind mythical tale of the making and breaking of Arth has finally returned to great uproar and enthusiasm. Despite a number of concerns over the change of the cast for the role of the protagonists – from Song Jong-ki's Eunseom and Saya to Lee Jong-gi's and from Kim Ji-won's Tanya to Shin Se-kyung's, Arthdal Chronicles: The Sword of Aramun has maintained and even enhanced the original chronicle of Arth. The new season has managed to smoothly and successfully transition from where it left off in season 1, which was probably the greatest hurdle in its path considering the large fan base that season 1 has garnered.
The change of protagonists has been justified with a passage of time in the show where the new additions have truly portrayed the original characters with a lot of maturity that comes with age. Where Song Jong-ki's Eunseom mirrored a certain kind of innocence not only just visually, Lee Jong-gi's Eunseom has evolved into a better leader, warrior and overall a more mature individual. Similarly, we saw Kim Ji-won's Tan-ya at the turning point of her taste to power and are met with Shin se-kyung's older version of Tan-ya who although might look fragile and kind, but is not only a good strategist but is also aware of her power as a spiritual leader, the Niruha, over the masses.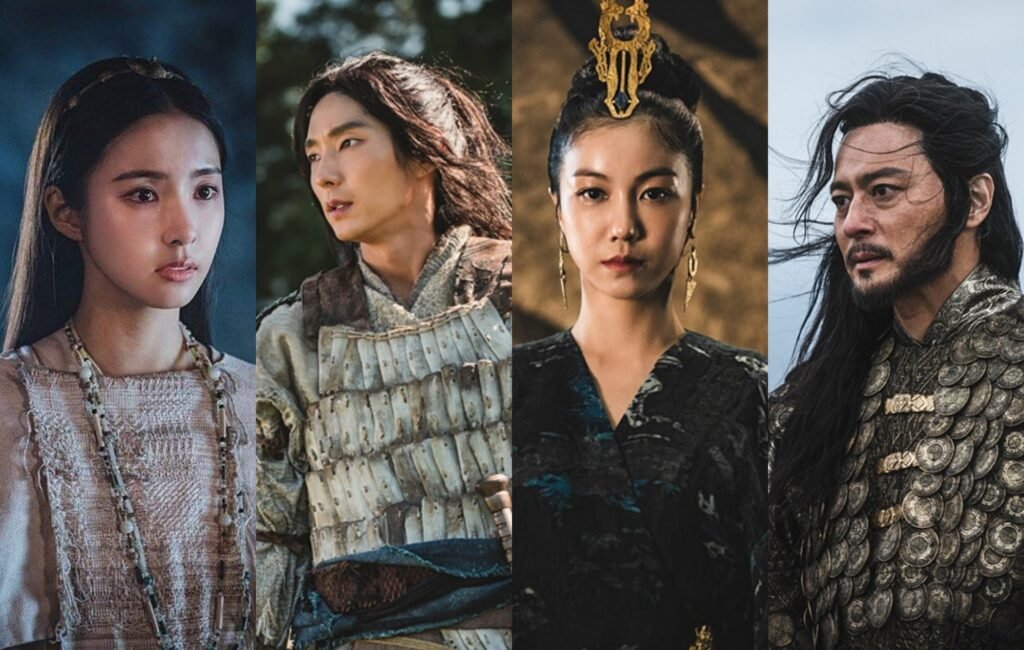 The narrative of Arthdal Chronicles: The Sword of Aramun is as engaging and interesting as ever. However, the most interesting aspect of the series is that, with the unfolding of events of season 2, one cannot but exclaim how much it radiates as a Korean adaption of Shakespeare's Macbeth, atleast partly, where Tagon assumes the fateful role of the tragic hero of the Greatest English dramatist till date. Tagon, a skilled warrior, kills his own father San-ung who is as much Duncan as he is Banquo, haunting Tagon in a very symbolic scene during one of his court meetings.
Tagon's traumatic childhood where he is denied a right to exist, fuels his obsession with the difference of colour of his purple blood and his obsession of assuming the figure of Aramun Haesulla since it gives him a purpose and justification for his existence as an Igutu, a half breed and also as the King of Arth. It is this fatal flaw that exaggerates his near downfall. The Macbethian reference is brought to life in a scene where Tagon stands alone in a forest ravaged by fire marking the near swift end to his tyrannical, expansionist and almost maniacal hunger for power.
Also Read – The Worst of Evil Review: Step Into The World Of The Noir In This Action-Thriller Kdrama With Ji Chang-wook and Wi Ha-Jun
The show, being true to its aim of documenting human nature and humanity, presents how humans are a function of time, that is, change. Whereas some members of the once kind, peaceful Wahan tribe, like Tanya's father, chose the side of power and violence, the most morally twisted Ago tribe, well known for killing and selling their own brethren, transforms into the most loyal and connected people under the leadership of Eunseom's Inaishingi.
The dialogues also shine with their memorable moments like Saya's proclamation to Tagon on consuming poison, "You'll die at my hands. Remember my face" referring to his twin, Eunseom's fateful, prophetic encounter with Tagon. Lastly, The Sword of Aramun brings some minor characters into limelight with the allegiance, loyalty and friendship of Yeonbal, Gitoha and Suhana, forgiveness of Mungtae, kindness and love of Nunbyeol and Chae-eun and the unbreakable grit and familial bonds of momo tribe especially that of Momo's Karat in season 2.
In a nutshell, Arthdal Chronicles Season 2 : The Sword of Aramun is a great success with its characters, storyline, brilliant action sequences, twists and turns, and a capable cast. Catch the season 2 if you haven't already on Disney+!
JAL Score
For its storyline, brilliant action sequences, twists and turns and capable cast, we give the season 2 a 4.5 out of 5.
WHAT'S YOUR REACTION ON THIS?