The Worst of Evil Review – Step into the neon-lit streets of 1990s Seoul, where the city beats to the rhythm of the bars, street food stalls, and electrifying nightclubs. In the middle of it all stands none other than the rising star of 'Squid Game' fame, Wi Ha-jun, and popular Hallyu star Ji Chang-wook of 'Healer' in this new crime drama action thriller – The Worst of Evil!
The Worst of Evil Trailer
The Worst of Evil Review
"Don't judge a book by it's cover" they say and although it might seem as a mere hackneyed idiom, 'The Worst of Evil' proves it spot on. At first glance, it seems like yet another kdrama crime-thriller, but it soon hooks the viewer with its intriguing story, it's play with characters, and within a few episodes, consolidates it's position as a watch-worthy noir in the kdrama universe.
Ji Chang Wook makes a glorious comeback into his 'Healer' and 'K2' era persona, the two breakthrough kdramas of his career which brought him immense popularity as a star. In The Worst of Evil, he is back with a bang! His performance has been noteworthy where he plays the role of an undercover countryside police officer, Park Jun-mo.
At the other end of the star spectrum, Wi- Ha Joon displays his incredible acting skills in portraying the charismatic yet daunting personality of the leader of Gangnam Union, the upstart Gi-cheul. Gi-cheul also, feels like an extension to Wi Ha-joon's Little Women character Choi Do-il in demeanor and colour. Is it Wi Ha Joon's "evil" era? We don't know yet, but he's surely causing some solid ripples with his projects and performances throughout the kdrama landscape!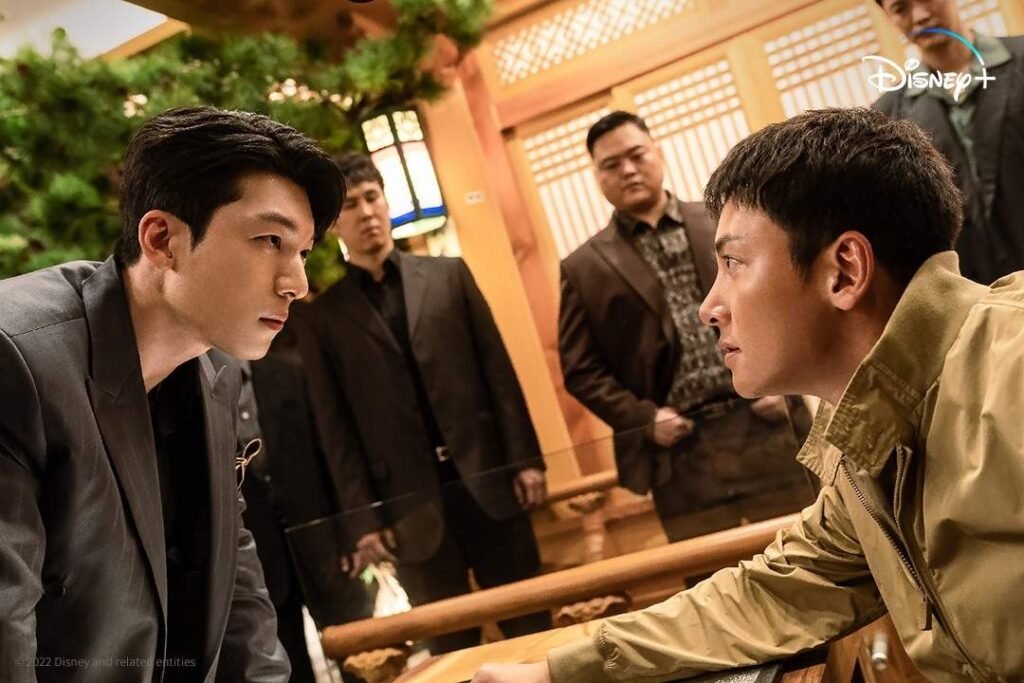 Set in the wild, noir landscape of 1990s Gangnam district of Seoul, The Worst of Evil displays the exciting and insane gang wars, drug trafficking, the mafia universe of fierce rivalries and quest for power. This seemingly parallel world of crime, where Wi Ha-jun' Jung Gi-cheul sits on the throne as the upstart drug lord, is soon infiltrated by a countryside sergeant, Park Jun-mo played by Ji Chang-wook.
Jun-mo finds himself in a precarious situation when he marries into an established family of police officers. He soon finds himself at the bottom of the family ladder. Under pressure to rise up the ranks, he accepts to carry out an undercover operation of infiltrating and exposing the Gangnam Union which is responsible for the international drug trade between South Korea, Japan and China.
Also Read – Moving Kdrama Review: Superheroes enter the K-universe!
The crux is not only how the show showcases the many hues of a gangster narrative, but it also feels like a study of the deeply intertwined character and relationship of Jun-mo and Gi-cheul. Jun-mo, being an undercover police officer, is on a mission but at the same time, there are moments when talking to Gi-cheul about his past, the two find solace in the commonality and nostalgia of their past. Both have had a troubled childhood with absent or violent father figures and dysfunctional families, where Yoo Eui-jung becomes a complicated connecting thread – being Jun-mo's wife and Gi-cheol's high school sweetheart.
Although Jun-mo is the hero of the show, the good-hearted police officer and a kind, loving husband, Gi-cheol doesn't just become a mere two-dimensional gangster villain but at times, display the many carefully condensed layers within himself, stealing the spot of an ambiguous persona, an anti-hero at par with Jun-mo. In one of the scenes where his childhood friend and comrade-in-arms question his judgement about his rendezvous with Eui-jung, who is also a police officer, Gi-cheul says, "Well, some things are dangerous but worth trying, right?" in a relatable and the most humane way out of reach for a mere gangster villain persona.
Also Read – Ashba Botanics Leave In Conditioner Review: Benefits, Uses and FAQs
All in all, The Worst of Evil is possibly one of the deserving, watch-worthy action thriller kdramas of 2023 and for very good reasons. Are you ready to teleport to the 90's Gangnam gang wars? Book your time machines on Disney+ and let us know about your adventure below!
JAL Score
For great performance, story, action sequences, we give The Worst of Evil a 4 out of 5.
WHAT'S YOUR REACTION ON THIS?