Barracuda Queens Review – Teenage is a tricky phase some would say. As you go from being a kid to a young adult, the transition is anything but a challenge. You try to fit into society, start putting yourself out more than before, and are also tasked with decisions that could more or less change your life trajectory.
Netflix Nordic's latest offering Barracuda Queens is more or less an insight into this part of the lives of a group of teenage girls in the 90s Sweden. This short series tells the story of a group of teenage girls who start robbing their rich neighbors after one wild night where they end up spending thousands of euros unbeknownst to their parents. This Swedish show was released on Netflix on June 6, 2023, and consists of six episodes. Alva Bratt, Tindra Monsen, Sandra Zubovic, Sarah Gustafsson, and Tea Stjärne star in the lead.
Barracuda Queens Trailer
Also Read: Modern Love Chennai Review – 6-Episode Anthology Based on Love and Chennai
Barracuda Queens Summary
Barracuda Queens takes place in the 90s in Sweden where a group of girls from a wealthy family spend their money to their will. As far as their parents don't suspect their activities, the girls follow their will and have free reign. One fine night, the girls end up spending a lot of money on alcohol during their vacation. They won't be able to tell their parents about the expense and think of finding ways to procure the money quietly. It all begins when Klara steals Lollo's mother's watch.
When she comes clean about the act Lollo and the gang get the idea to rob their rich neighbors to pay off the debt. They leave behind a wrecked space and glasses of champagne which they drink from each house after robbing it clean. They rob enough to cover the debt but by then they are bitten by the greedy bug and they rob more and more.
They rent a warehouse space to store their loot, but it is also soon uncovered by the warehouse's owner. Things take a downturn when their activities are discovered by everyone. The promising futures of these young minds plummet considerably due to their juvenile acts.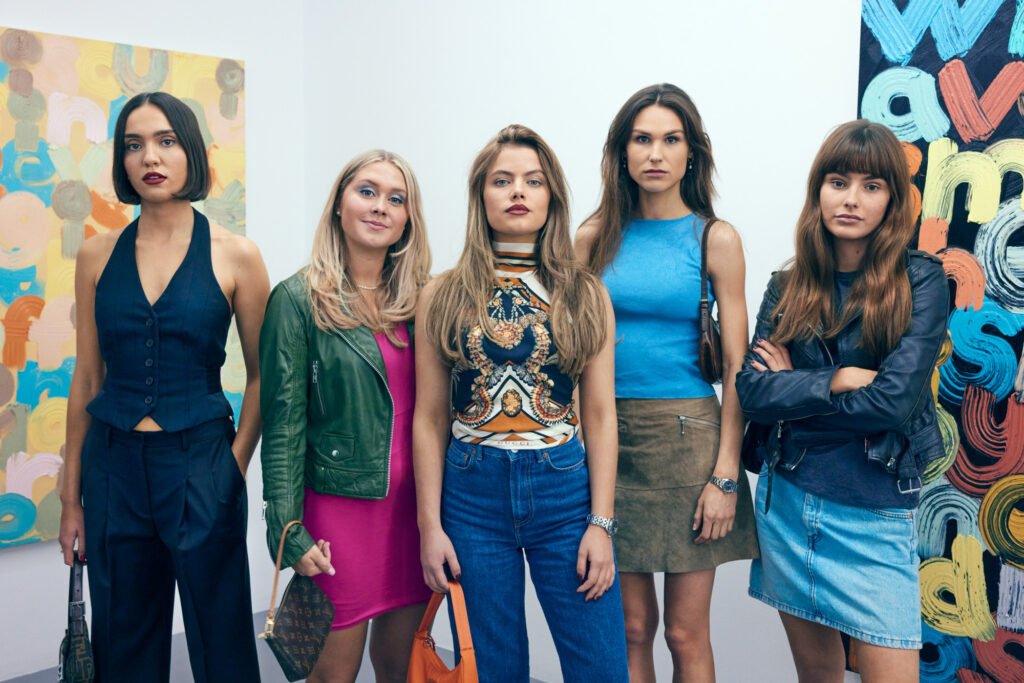 Barracuda Queens Review
The show Barracuda Queens holds promise right from the start. With six episodes of less than 40 minutes each, Barracuda Queens captures the viewers' rapt attention. In each of the girls, we see that there is an underlying melancholia for the younger days, the thirst to do something for themselves, the frustration of their current situations, and the desire to wage a rebellion. When the group starts stealing from their neighbors, they are not only stealing money but also venting their anger and frustrations toward the individuals who have wronged them in one way or another.
We also see instances of patriarchy sprinkled in between the story when Lollo's brother tells her to not get intimate with Tobbe as he has a bad reputation. When Lollo raises a question, he simply states that it is different for the girls in society when they indulge in such behavior. Then there is also the instance where Mia is harassed by the man of the house she works in, but she cannot raise a voice because she needs the money to afford a living. It comes to light how women are subjugated in society regardless of their age, class, and education.
As it tells the stories of teenage girls, it also sheds light on the condition of rich families. These families have it all – money, comfort, and luxury – and yet they always seem to be playing pretend. No one actually talks to each other, and the relationships are highly askew. The adults in the families engage in erotic games where they spend the night with each other's spouses just 'to keep the flame alive' in their own marriages.
Also Read: How to Make Green Tea Taste Good – Tips and Recommendations
The show also goes to show how emotions are in upheaval in one's teens. There is an urge to act sporadically and on impulse which does not always lead to positive outcomes. In addition to being spoiled with money and luxury, the girls also come from a privileged background where they don't think that robbing others to satisfy their urges is incorrect.
If you look at their group name – Barracuda Queens – one might even come to think that they draw the name from the fish Barracuda which is known to capture its prey in short and quick outbursts. Just like the fish's attack, the girls also attack their rich neighbors quickly which is a result of their outburst against the frustration they feel.
LIKE WHAT YOU READ? WHY NOT SUBSCRIBE?
---
Barracuda Queens Season 1 Rating – JAL Rating
JAL gives Barracuda Queens a solid 4 out of 5 stars for a smooth narration, tight story, and a gripping visual tale. Have you watched the show yet?
---
Some of my other posts
WHAT'S YOUR REACTION ON THIS?