Simple doughnut recipe 🤤!!
Doughnuts are my absolute favorite! A warm doughnut and a hot cup of tea never fail to uplift my mood. I can never get tired of shopping in a mall and munching on doughnuts in the small breaks in-between the shop-hopping. Those sprinkles, glazed and some seasonal delights never stopped attracting me!
With the lockdown in effect, don't we all miss store hopping in malls and snacking on doughnuts in between? I always thought making doughnuts at home would be time-consuming and not easy until I successfully made some recently !!!
"Doughnut Worry" (Oh, I meant to say "do not worry" 🤪) I got your doughnut cravings fixed !!!
Caution: You may end up making countless batches of doughnuts after trying this fail-proof, easy recipe!
Recipe:
This recipe is focused to satisfy your Doughnut cravings with the ingredients available at home anytime! Let's jump into making some yummy doughnut recipe.
Portion : This will make 5-6 doughnuts
Ingredients:
For Doughnut:
All purpose flour (Maida) – 1 Cup
Powdered Sugar – 3 Tablespoon
Baking powder – 1/2 Teaspoon
Baking soda – 1/4 Teaspoon
Lime juice or Vinegar – 1 Teaspoon
Milk – 1/4 cup (Enough amount to knead a soft dough)
Softened butter – 1 Tablespoon
Salt – 1/4 teaspoon
Curd/Yogurt – 1/4 Tablespoon
Vanilla essence – 1/4 teaspoon
For the Doughnut topping:
Topping for the doughnut is up-to your creativity. I'm mentioning the ingredients which I used in this recipe.
Chocolate – Amul 55% Dark chocolate
Butter – 2 Tablespoon
Nuts – 3 to 4 cashews
Cake sprinkles (Bought from

Bakerville

)
Preparation:
Doughnut making steps:
In a mixing bowl, add all the dry ingredients and mix well
Now add the Vanilla essence, vinegar/lemon juice, curd and give it a mix
Start adding enough amount of milk to the mixture and make a soft dough
Do not over mix or knead the dough
Now keep the softened butter in the centre of the dough and start tucking in the dough multiple times
Cover it with a cloth and let it rest for 1 hour
Now make balls out of the dough. Roll the balls into 1/2 inch thickness and cut it into a doughnut shape.
Use any bottle cap, vessel cap or bowl to cut the doughnut if you do not have a doughnut cutter
Fry the doughnuts in low-medium flame. Do not burn the doughnut
Once the oil stops to sizzle, take out the doughnut and let it cool down in a plate
The doughnut recipe is ready now !!!
Steps to garnish the doughnut:
Chop the chocolate and pour molten butter into it to make chocolate sauce.
Dip the doughnut in the chocolate sauce and sprinkle nuts, sugar, cake sprinkles as you wish.
Voila!!! Cute looking yummy home made doughnuts is ready to eat!! Serve it hot for better taste!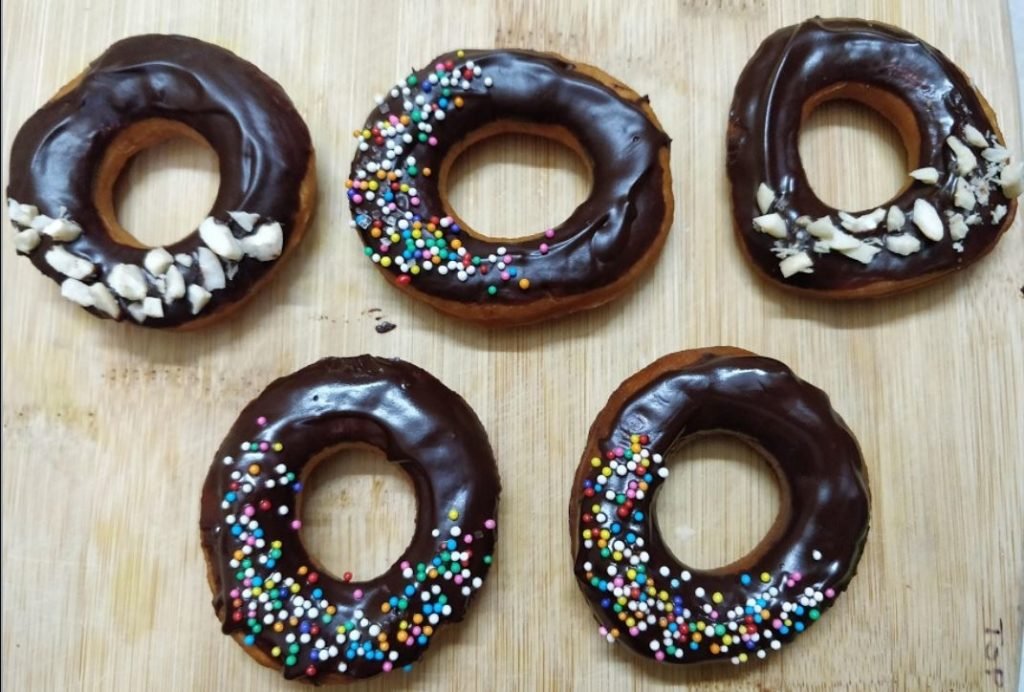 Tips:
When you roll the dough make sure its at least 1/2 inch thick so that you get puffy, soft and most importantly tasty doughnuts
Garnishing is absolutely up to your creativity. Here are a few suggestions from me:

Any type of chocolate (white, dark, milk etc) you like can be used. You can make patterns with two different colours of the chocolate sauce
You can also use ready make chocolate or caramel syrups
Ready-made spreads like peanut butter, hazelnut or even Jam can be used
Also, you can simply roll it in a mixture of powdered sugar and cinnamon powder
I've tried dipping the doughnut in milkmaid and it has come out absolutely yum
Any types of dried fruits/nuts/petals can be used.

This is a never-ending list. Please let us know your suggestions in the comments section
Give our doughnut recipe a try and don't forget to share the pictures with us!! Do let us know your feedback/queries in the comments section!!
For more recipes from Just A Library click here!
Happy eating!!
WHAT'S YOUR REACTION ON THIS?