Mr. Queen Review – Imagine you are going about your day, as you always do. Washing dishes? Check. Cleaning up after your dog's stray hair? Check. When suddenly, your to do list drops from your hand and hits the floor. "Well, shit" you sigh, tired from all the chores you've been up to and bend to pick it up only the to do list isn't there anymore. "What just happened? I swear it was right there" you convince yourself.
At this moment, you look around and well, the new, polished grey of the walls you painted last week isn't there anymore nor is any of your furniture from IKEA. You are in an open space, a market of sorts with people riding on horseback and carts. The cemented tall skyscrapers are nowhere to be found. Where are you exactly and how did you get there?
Something similar happened to our Mr Queen protagonist, Jang Bong-hwan. In today's edition of our kdrama reviews, we have for you one of the insanely popular, Mr Queen! Let's get right into our Mr Queen review.
Mr Queen Review – Trailer
Mr Queen is a romantic comedy historical kdrama starring the famous Shin Hye-sun and Kim Jung-hyun. The story is based off of a Chinese web series called Go Princess Go. Just when the world needed a break from the raging pandemic, this TVN masterpiece premiered on 12th December, 2020. It went on to become one of the highly rated kdramas in cable television history of South Korea with the last episode reaching a nationwide rating of 17.371% and 18.554% in the national capital of Seoul. Not only this, Mr Queen has been rated 9 out of 10 on MyDramaList.com by viewers from around the globe.
ALSO READ: The Glory Review: Season 1 – What's The Hype About?
Mr Queen Review – Plot
Mr Queen revolves around Jang Bong-hwan, a star chef in the Blue house, who on a fateful day wakes up in the body of a Joseon Queen-to-be, Kim So-yong. As he struggles to figure out a way to return to the modern era, and to his own body, he gets involved in the power struggle between two rival families, a political war of scandals, controversies, rumours and death to win the throne of Joseon.
Mr Queen Review
Shin Hye-sun, without a doubt, is the highlight of the show. Mr Queen is one of her best performances in her kdrama acting career. Riding on the trope of a gender-bender, the portrayal of the character of Bong-hwan becomes extremely crucial. She portrays the role of a stereotypical, modern cis-man so well, that sometimes you wonder if the gender reversal is actually true! From her mischievous Bong-hwan expressions to her stereotypical man demeanor and gestures, everything about her portrayal of Bong-hwan is flawless. Mr Queen might have not been so popular if not for her impeccable acting skills which truly brought the character to life.
Moreover, the insane comedy that the kdrama portrays is just a cherry on the top. From slapstick to situational comedy, Mr Queen has it all. For instance, it is hilarious to watch a modern man, in the body of a woman, proclaiming to be the first woman in Joseon to go bra-less as Bong Hwan is seen struggling with the extensive wedding attire.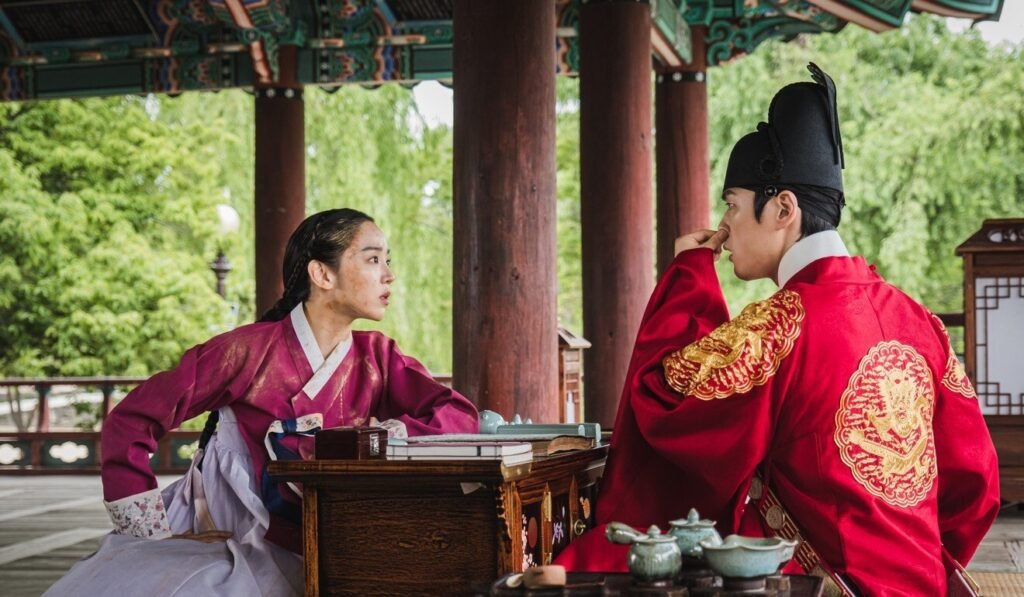 The characters perform their functions as part of a historical kdrama. For instance, the historical kdrama tropes of political tension and struggle, political violence and so on are preserved in Mr Queen and the characters perform their stock characters as a puppet king, a corrupt government and so on. However, the fun factor of the show comes into play when the characters while performing their stock roles, also participate in laugh out loud comedy, slapstick, and dramatic irony.
[Mr Queen review: spoiler alert – description of a comic scene]
For instance, in one of the scenes, King Cheoljeong played by Kim Jung Hyun can be seen intently reading a book. For the record, in many of the historical kdramas, the importance on the necessity of acquiring scholarly knowledge by a king is highlighted in order to rule the nation effectively. Similarly, the viewers realise that our dear king is quite intently engrossed in this one particular book, possibly of scholarly importance. The camera zooms in on the book, only to reveal that our king is reading historical equivalent of porn and not any book of national importance.
[spoiler end]
The show also features many modern sentiments and functions as a satire. For instance, in one of the scenes, one can infer the latent capitalism at work when Bong-hwan comments that the palace workers are easy to please as he offers them beverages while they tiringly work to fill up the lake. There is an instant change in the workers' attitudes upon this delicious paycheck and that's how Bong-hwan keeps them working while also threatening to chop their heads off periodically.
Moreover, the scenes where Bong-hwan as the queen takes control of the royal kitchen as a chef to make modern delicacies like ramen from scratch are fun and entertaining to watch, as if one is watching a historical cooking show or a mukbang!
Mr Queen Season 1 Review – JAL Rating
As for our JAL rating for it scores a complete 5 out of 5 for being a hilarious binge worthy kdrama to fill your weekend with the fun it deserves! So, what are you waiting for? Catch Mr queen on Netflix.
You Might Also Like To Read
WHAT'S YOUR REACTION ON THIS?