Only Murders in the Building Season 3 Review: Murders and mysteries are always a favourite topic to those who seek thrill in fiction. These stories keep you engaged, make you think and perhaps also give a life lesson or two. When one story starts to become a series of stories, it becomes quite difficult to live up to the legacy formed at the first instance. It is easy to lose sight after one starts to live on past laurels. But that is not the case with Only Murders in the Building.
Only Murders in the Building premiered its season three on August 8, 2023 and concluded on October 3, 2023. The show stars Selena Gomez, Martin Short and Steve Martin in the lead. Their characters Mabel, Oliver and Charles form an unlikely friendship and embark on an adventure to solve the murders happening in their building. The show lived up to its reputation of being something more than just a whodunit. It is a story of individuals, it is a story of groups, it is a story of friendships and bonds forged beyond familial ties. It is a commentary on the society, it is a commentary on the hidden evil. Above all, it is a story that will make you want to start a podcast!
Only Murders in the Building Season 3 Trailer
Only Murders in the Building Season 3 Summary
As you can see in the trailer, Season 3 of Only Murders in the Building deals with the mystery of Ben Glenroy's death. He was introduced in season 2 of the show and so was his death. It is revealed in episode one of season three that Ben did not die at the theatre. Staying true to the show's title, Ben does die but he dies at The Arconia! But nothing should be taken at face value when it comes to murders and those who live in the building! As Oliver prepares to make his theatrical debut a success at any cost, and as the trio try to solve the mystery of Ben's death, the story becomes an unravelling in itself.
Also Read: Nowhere Movie Review: A Hit or A Miss?
Only Murders in the Building Season 3 Review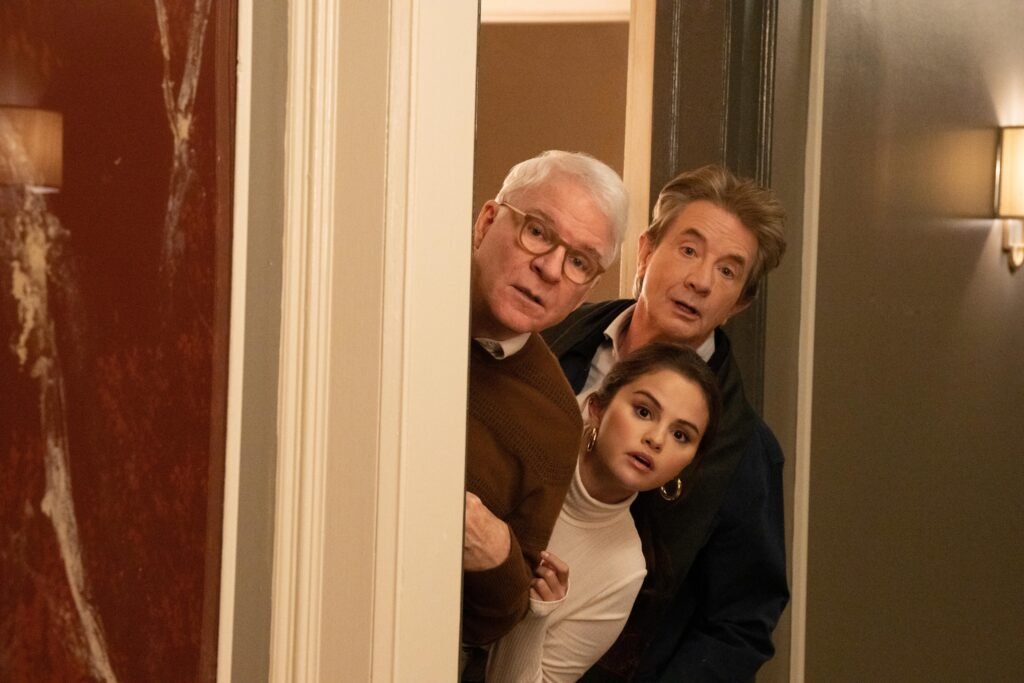 Throughout this season, we saw each character growing in their own space. The priorities changed, new changes were welcomed and new quarrels were dealt with but even then the friendship between Mabel, Charles and Oliver was not changed. As this season came to a conclusion, with it, it brought a wave of newfound wisdom and clarity. Seeing Oliver and Charles evolve, fall in love, achieve their dreams in their seventies gives a hope to the viewers that it is never too late to do what you want to do.
The suspense was as intact as we say in the first two seasons. Though, poor Charles. He had to get his heartbroken all over again. The addition of Meryl Streep to the cast was quite the surprise. Her character Loretta is docile yet strong. Loretta is a testament to the claim that life is full of lessons and it remains on the person on how to take those. Despite decades of small roles and rejections, Loretta did not give up on dreaming big.
Paul Rudd as Ben Glenroy was the perfect caricature of the high-maintenance actors who go on haphazard diets, live off their egos, consider anyone else below them and simply think the world revolves around them. Ben Glenroy was a character that you initially hate but eventually come to sympathise with. With a patient and caring approach, perhaps there was something good left in him that could be salvaged.
Each side character has a story of their own, an agenda of their own. The actors in Oliver's play are symbolic to the cut-throat nature of the entertainment business. With each character, Only Murders in the Building highlights the people whom we might know in passing, but never looked closely at. It indicates that the finer details are what make up a person's personality, just like the finer details help crack a seemingly unsolvable murder case.
The show also brought the ideas of podcasts to the forefront. Podcasts have existed for a good numbers of years now, but their popularity rose further during the pandemic when people were stuck inside their homes with a lot of time at their disposal. Humans craved something to pay attention to, divert their minds to, and podcasts came to the rescue. Seeing how the trio in Only Murders in the Building also rise to stardom status with their podcast, it encourages others to start one of their own. The only difference? The trio solves their own murder cases, often times while being the prime suspects in each case!
Also Read: The Moon 2023 Movie Review: Is The Moon Korean Movie Good?
Will there be Only Murders in the Building Season 4?
Yes, there is definitely going to be season 4 of Only Murders in the Building. As we saw in the finale episode, Charles' body double Saz is shot in the chest when she goes to bring the wine from Charles' apartment. Just before that, Charles receives a cryptic text from Joy, his ex-girlfriend. In season 3, there were certain times when Charles thought that perhaps he might be the target. We cannot ignore that those mentions were not a foreshadow for the events which would follow next.
If the first two seasons are any indication, then each cryptic text received by the trio in the finale episode is like that short thread which when pulled would unravel a larger picture. In this season as well, Joy's text to Charles is definitely a signal at some game at play. In each season, somehow Charles is the one to receive these text messages. Perhaps he needs to change his number to avoid anymore murders in the building!
What are your thoughts on Only Murders in the Building Season 3? Tell us in the comments below!
JAL gives Only Murders in the Building Season 3 a stunning 10 on 10 stars!
WHAT'S YOUR REACTION ON THIS?