Pani Puri Recipe
Pani Puri / Golgappa is one thing that unites the Indians, despite its diversities. Indians love with this snack and there is always room for more Pani puri in their tummies. Indian don't mind eating it at any time of the day and can chunk down an insane amount of this snack at one go.
Just like India is diverse, Pani Puri is also diverse. One can find different flavors of Pani Puri ranging from sweet, spicy to even tangy in different parts of India. It is so popular that you could find at least one Pani Puri stall around the corner of every Indian street. But what if we can make this at home in a more hygienic and healthier way. For all the foodies, amateurs cooks, here is the recipe on how to make Pani Puri which you can make easily at home.
Before we start, make sure to subscribe via email to this website to receive the latest updates.
| | | | | |
| --- | --- | --- | --- | --- |
| COURSE | CUISINE | SERVES | PREP. TIME | TOTAL TIME |
| Indian | Snacks | 4 | 30 mins | 1 hr |
Ingredients
Oil – 500ml
Wheat flour – 150g
Semolina (Rava) – 150g
Water – 100ml
Potatoes – 3 nos
Coriander leaves – 30g
Green chilly – 4 nos.
Cumin seeds – 1 tbsp
Salt – as required
Tamarind juice (Highly Concentrated) – 3 tbsp
Tamarind juice (Mildly Concentrated) – 300ml
Lemon juice – 2 tbsp
Preparing the pani puri masala and the pani
Boil 3 potatoes (big in size) in water and mash it once boiled.
Add salt (as required), 1 tbsp of cumin seeds, 2 green chillies (made into a paste), 20g coriander leaves, and 3 tbsp of highly concentrated tamarind juice into the mashed potatoes. Mix them well and the masala is ready.
Now, for the pani (tangy water), take 300ml mildly concentrated tamarind water and add 2 tbsp of lemon juice, salt (as required), 10g of coriander leaves, and 2 green chillies (cut open) into it.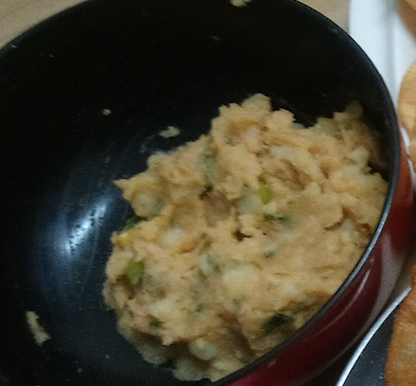 Preparing the puri
Take 150g (or equal amount of) wheat flour and semolina into a bowl.
Add 50ml of water initially and start kneading the dough.
Knead the dough while progressively adding water, until the consistency of chapatti dough is reached.
Cover the dough with a wet cloth and set aside for 30 mins.
After 30 mins, knead the dough once again thoroughly and then, divide the dough into small balls.
Smear some wheat powder of a flat surface and flatten the small dough balls one-by-one into disc-shaped doughs. Remember not to flatten it too thin or too thick. (Ideally, flatten it as thick as normal poori)
Heat 500ml of oil in a wok or pan to approximately 200°C.
Once the oil is hot, add the flattened puri into the oil, one at a time. Do not crowd the pan.
Remove the puri from oil when it turns to golden brown balls and drains the excess oil using a tissue.
Serving the dish
Take one puri and poke a hole in it using your thumb.
Add approx. 1tsp of mashed potato (masala) into the puri.
Either dip the stuffed puri in the tamarind water (pani) or pour the tamarind water (pani) into the puri.
Your Pani Puri is ready to be served and eat it at one go immediately, else the puri will get soggy and starts leaking.
Seems a lot of work initially, but it's totally worth the effort. A happy smile is guaranteed on your face, every time you eat this snack. Well then, what are you waiting for?
Try this at your home and make sure to comment on your experience in the comments section.
Take a look at some of other articles from various domains – here.
WHAT'S YOUR REACTION ON THIS?