The Glory Review: Season 1 – "Please stop it!" a pleading scream in an empty school gymnasium echo, followed by a muffled laughter. A peep inside, behind the closed doors, reveal a girl pressing a hot iron onto the arm of another. Her arms are red blotches, physically and psychologically butchered and bleeding while a couple of others stand and laugh, amused. Sounds familiar? There are horrifying stories about bullying across the globe and The Glory brings this issue to the forefront. In The Glory season 1 review, we talk about why this show is selling like hot cakes while keeping it spoiler-free. So, sit back and let's get right into it.
TW: Sexual violence, abuse, bullying, suicide.
The Glory Trailer
The Glory is a revenge thriller based on the issue of school bullying, successfully portraying the heart wrenching consequences of such experiences on the victims. For many years now, the kdrama industry has been producing shows which address social issues that plague not only the Korean society but are issues of universal social interest. Many of such kdramas, such as Sky Castle, have become instant hits with the viewers and The Glory is no less.
Its season one has bagged the rating of 8.9 out of 10 on the reviewing platform Mydramalist.com. The Glory consist of two seasons, each consisting 8 episodes. Season one first premiered on Netflix on 30th December 2022 while season two is scheduled to air on Netflix on 10th March, 2023.
Interestingly, although The Glory itself is a work of fiction, it is inspired by a few real-life incidents of bullying. It is written by veteran screenwriter Kim Eun-sook, known for global hits like Guardian: Lonely and Great God and Descendants of the Sun. She revealed in one of her interviews that certain scenes have been inspired by real-life bullying incidents in South Korea.
ALSO READ: Gunther's Millions Review – Millionaire, but at what Cost?
The Glory Review: Season 1
The Glory revolves around Moon Dong-eun. Dong-eun is an underprivileged child with absent parents, living on her own in a dingy inn. She gets entangled with one of the rich kids, Park Yeon-jin. Yeon-jin and her friends subsequently bully Dong-eun, physically and sexually abusing her to the point that she considers jumping off of a building. With no one to lean on, Dong-eun leaves school and starts working while scheming an intricate and detailed plan set in the future to destroy her perpetrators and avenge herself.
One of the highlights of the show is Dong-Eun's character itself. Song Hye-kyo's Dong-eun resembles Rosamund Pike's Amy of Gone Girl. Although Dong-eun is definitely way subtler and patient than Amy, waiting years to get her plan into action. Dong-eun worked in a factory and prepared for her college entrance tests while Yeon-jin and her friends were having the time of their lives. Now, she reappears as Yeon-jin's child's homeroom teacher with nothing to lose and determined to win.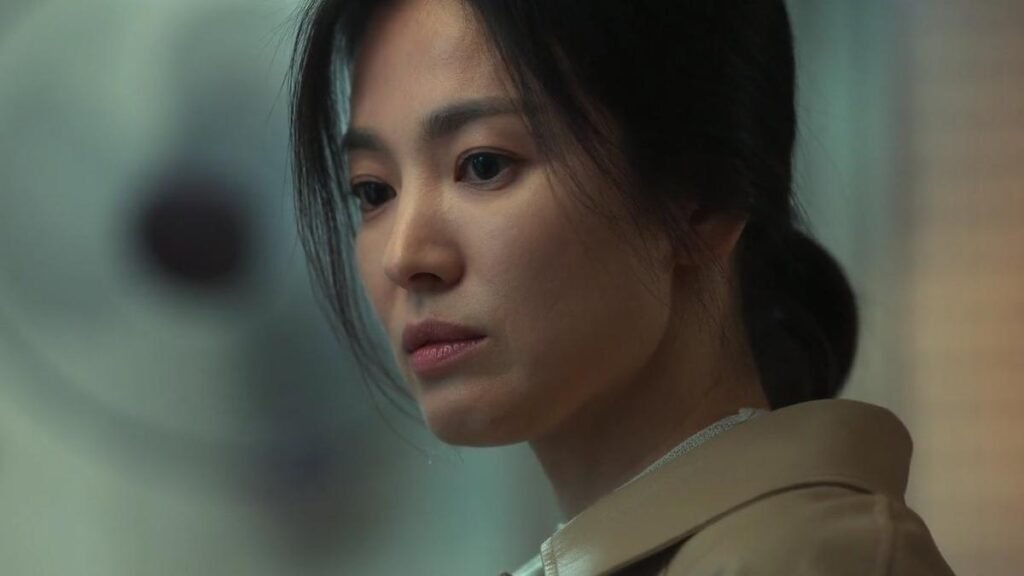 Moreover, the motif of the game of 'Go' is also a recurring theme in the series where Dong-eun tries to learn the game from a medical intern Joo Yeo-jeong played by Lee Do-hyun. The game of Go is one of the oldest and most difficult games in the world. It is an abstract strategy game where a player tries to win by surrounding more territory than their opponent.
ALSO READ: Stromboli Movie Review – Discover Yourself and Face Your Fear
Interestingly and quite cleverly, this is exactly what Dong-eun seems to be doing in season one of the show. She makes her moves quietly, trying to win as much territory as she can and on her way tries to unravel the façade of Yeon-jin's supposedly perfect life. This is what makes The Glory such a thrilling and interesting watch. The characters are all but playing a game of Go against each other, trying to win as many stakes as possible to tumble the other over for good.
Moreover, as all well-written revenge thrillers, The Glory deals with extremely high-stake twists and turns. The kind that can make one's life topsy-turvy in a second. But as viewers, what more could we ask for!
In a nutshell, The Glory's season one with its experienced and talented cast gives a phenomenal performance. The action-packed, fast-paced storyline with the subdued scandalous secrets is a treat for any thriller lover. Without revealing a spoiler, must we say that you are in for a treat. So, what are you waiting for? Watch The Glory season one on Netflix and let us know your thoughts in the comments.
If you enjoy writing and would like to share your thoughts, reviews, or even recipes with others while earning some extra money, you've come to the right place! Join us under our GUEST AUTHOR PROGRAM and start earning now!
You Might Also Like
WHAT'S YOUR REACTION ON THIS?