Dive in with team Wryters!
A friendly approach is an ideal quality, so get friendly with "Blogging". Blog posts are an excellent way to communicate with your targeted audiences, we are living in a digital era and technology has become a part of our daily lives.
With the growth of online startups and small businesses, customers have unlimited options for shopping. Before making a purchase decision, they tend to read reviews, customer testimonials, blog posts to get suggestions to know whether a particular product or service will solve their problem.
This is where your blog posts help you to convert your audience into customers and by building relationships convert them into your loyal customers. Customers connect well with a brand if it has an emotional connect with them. When you educate them through your posts they tend to believe that you may be the one who will be able to solve their problem.
Nobody on the other side of the virtual world would know you or your brand if it weren't for your website and the updates on it. That's your face in the market. If the website is only about selling, nobody likes to visit. But if it has something to educate the audiences, well you are on track for growth. Most importantly, Blogs tell people who you are and what you offer.
How to generate leads?
Yes, the ultimate goal of any businesses is to get customers and earn profit. Blogs posts also help in generation of leads, your customers may not be avid readers but they will use Google for solutions to their problems, once they come across the information they require, they land in your blog. To make customers land in your blog you should be updating your blog frequently.
Should I blog on a daily basis?
When you come up with a new blog every day or week or month, the people know that you are up to something new, and it makes them eagerly wait for your updates. Below you can see the statistics of frequent posting of blogs and their ROI: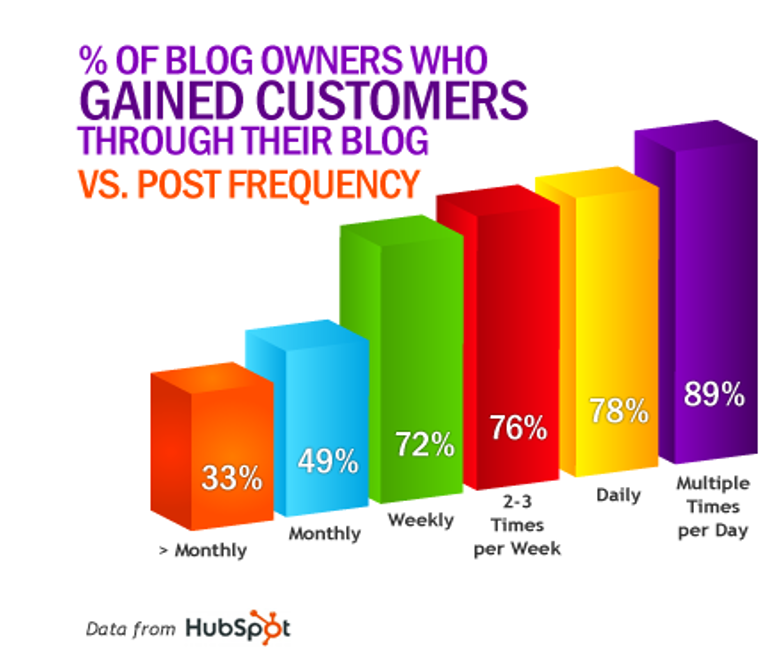 Benefits of business blogging
Blogging is an inexpensive way for businesses to drive traffic to the site.
According to a recent report, nearly 80% of companies that use blogging as a part of their marketing strategy reported acquiring customers through their blogging efforts.
Blogging also helps you get discovered via social media. Every time you write a blog post, you're creating content that people can share on social networks helps expose your business to a new audience that may not know you yet.
Well written blogs demonstrate your company as an industry leader. By posting topics that are related to your industry, you showcase your knowledge and your skills which make people think you are a better option to choose for their business.
Blogs can be used to convert readers into customers.
Blogs are free advertisements.
You'll grow your email list (and your sales).
To know more benefits of blogs and how brands use blogs, visit: https://www.lyfemarketing.com/blog/benefits-of-blogging/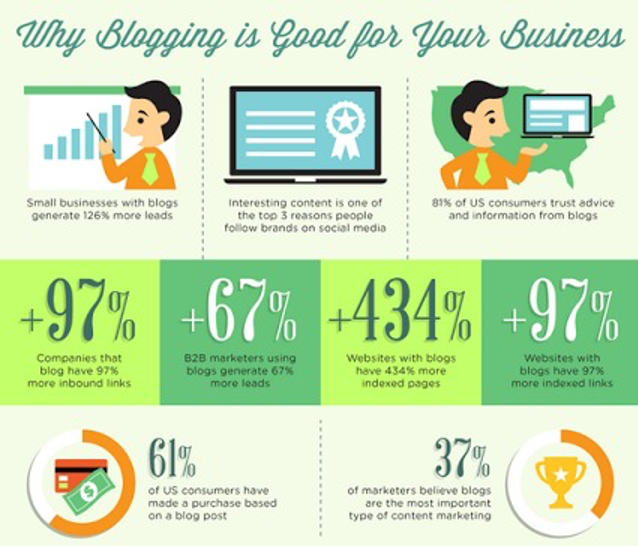 Do you have more statistics?
Businesses with a consistent blog strategy receive twice much email traffic. More than 55 percent of marketers say they've gained new customers just by blogging.
Companies that publish at least 16 blog posts per month receive 3.5 times more traffic than those that publish fewer than four blog posts.
Blogs also play an immense role in the consumers' purchase process. Its impact in the early stages, with six out of ten buyers reportedly seeing the value of blog posts at the start of their purchase journey.
More than 55 % of marketers list blog content creation as their top inbound marketing strategy. (Hubspot 2020).
HubSpot found their blog posts with over 2,500 words earned the most links.
Businesses that blog get 55% more website visitors than those who do not use the blog.
70% of people would preferably learn about a company through articles rather than advertisements.
Facts to grab about blogging!
If you are not using blog posts you are losing customers to your competitors or restricting your growth. Blogging is not a onetime thing or with 3 to 5 blog posts you grow your brand or make a sale. If you don't have a unique identity to achieve it, along with the content marketing you or your business should have a brand identity (i.e.) Logo in order to build an effective relationship with your audience.
No!!! It should be done over a period of time to stand out, drive traffic to your site, generate leads etc. Your blog is not about you but your customer's value. If you're not providing them with appropriate data or prospectus you are taking a different turn from blogging for business and are unlikely to attract traffic or subscribers.
Not all of your customers read blogs, but they all use Google to find answers and information. If your blog has the information they're looking for, they'll find that information and discover your brand.
Conclusion
Blogging is a time-consuming endeavour. If you don't have the time to dedicate to blogging, you should seriously consider hiring someone to do it for you. Posting blogs means not just writing something about a product or service and posting it and calling out customers. It is more than that. You need to have expertise in writing and proper usage of words is important. It should have emotional connect with your audience
There are millions of blogs getting published on Google. So you need to do a lot of research while writing that blog. You can always outsource this work and get it done.
Business blogging is an essential part of inbound marketing. A business blog is a marketing channel that helps businesses increase visibility online, brand awareness, blog subscribers, and support business growth. Business blogs need a solid promotion strategy to get their content in front of their buyer personas.
Most companies have started adopting this strategy, and big brands are also moving towards content marketing and they focus more on blog posts and articles.Keeping all this in mind a group of young people have come up with an amazing startup called Wryters.inc to find businesses reach new heights in their fields by providing them quality content for blog/ content writing, proofreading and graphic designing.
For more information, Connect with us wryters.inc for blog posts, article writing, proofreading and graphic designing.
Follow JUST A LIBRARY for more interesting contents.
---
Wryters.inc is a writing service business incorporated by entrepreneurial mindset enthusiasts who aim to provide value to businesses to grow through blog post writing, article writing, proofreading and graphic designing.
Reach out to us via,
---
WHAT'S YOUR REACTION ON THIS?