XO, Kitty Review – Romantic comedies have always been a delightful getaway from the mundane hustle for most of us. The latest romcom story to hit the block is XO, Kitty which is a spinoff to To All The Boys I've Loved Before series. Based on the characters written by author Jenny Han, XO, Kitty tells the tale of the youngest Song Covey sister – Katherine aka Kitty. She has dubbed herself a matchmaker after a rather nosy but successful stint of pairing her sister Lara Jean with Peter Kavinksy.
Kitty, being the youngest in her family, has also been the most pampered. She is the typical nosy youngest sibling who wants to get the details of her elder sisters' lives. With this spinoff series she gets to live a fairytale of her own where the self-titled matchmaker turns to matching herself with her pen pal of four years.
Also Read: Kathal Movie Review: A Jackfruit Mystery – Here are 3 reasons to watch it
XO, Kitty Trailer
XO Kitty Review
XO, Kitty takes us to Seoul, South Korea where Kitty enrolls in Korea Independant Seoul School (KISS), a school which her mom also went to for a year. Going to KISS is Kitty's way of connecting with her mother whom she never met. She relieved those moments from her mother's photobook, and also met with her first love Kim Dae Hoon aka Dae. Kitty has been writing letters to Dae for four years now. She and Dae fell in love over letters.
Kitty makes a plan to spend a whole school year with Dae and enrolls for a scholarship at KISS, the same school that Dae also coincidentally attends. Thus begins her journey as the new student in a foreign land. She barely knows the language, and is not well acquainted with the Korean culture which makes her a butt of jokes amongst her peers. She meets with Dae and his friends Min Ho, Q and also his 'girlfriend' Yuri. Yuri comes from an elite family and is also Principal Lim's daughter. She has a secret of her own and a slight love-hate relationship with Kitty. Kitty's room mate has a 24/7 video game streaming on, and the room is littered with scraps which makes Kitty's life in the dorms very difficult. She moves into the boys' dorms and shares the room with Dae, Minho and Q unbeknownst to the staff.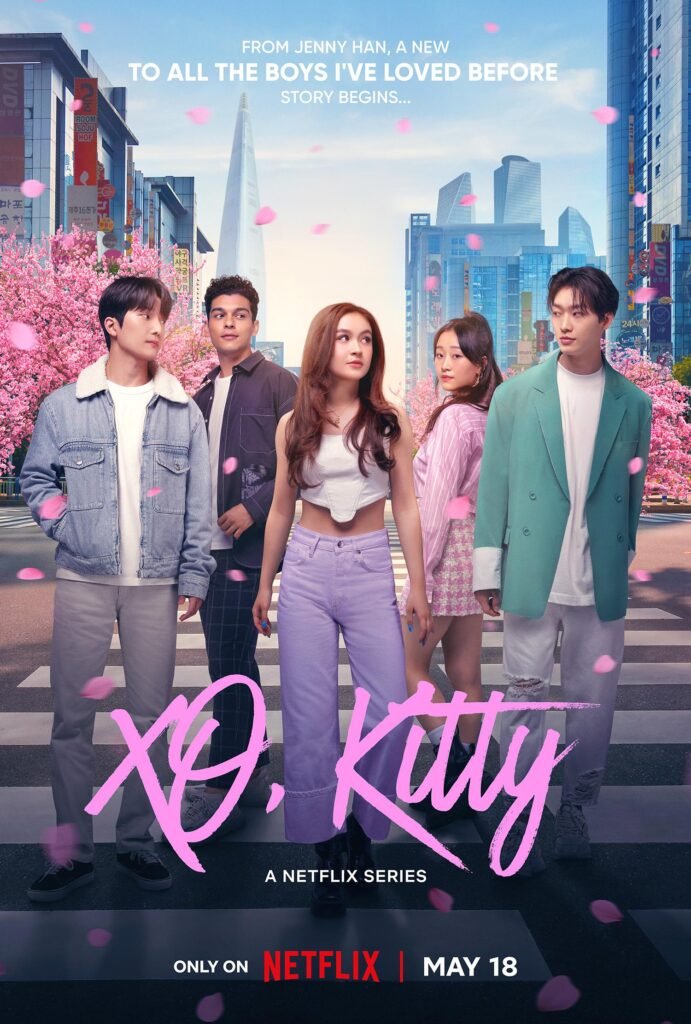 After a series of mishaps and misadventures, Kitty and Dae are finally together but Kitty has found a new side to herself. She has feelings for Yuri, the same girl who was in a fake relationship with Dae initially to save her family's reputation. In the midst of finding the love of her life, Kitty also comes across a secret from her mother's past which leads her to a new tangent of discoveries.
XO, Kitty is a decent watch if you're looking for something to spend your time on over the weekend or a quick binge. Each episode is not longer than 30 minutes which makes it just fine to indulge. Since the show is set in Korea, we find a lot of cliches and fan service moments throughout the story. Some would argue that the show brings in a mix of K-drama to the typical American teenage drama and they won't be wrong.
There are all the classical tropes that one would find in a rom com teenage drama. We have a love triangle between Dae, Kitty and Min Ho, but I feel that somewhere Min Ho falls short in proving to be a heartthrob second lead which is synonymous in K-dramas. The saccharine-laced dialogues make it pressingly obvious about the plot that would unfold and it chips away a tiny bit of the charm that the show promises. But then no teenage story is complete without such cheesy, corny and complicated instances – both in reality and in fiction.
The landscape and cinematography of the show is pleasing to the eye given the pastel shades and eye-catching fashion. There are K-pop songs peppered in for each pivotal sequence including the leads' entry and it was a delight to find artists like JEON SOMI, SEVENTEEN make the cut. The supporting cast acts as a great buffer to the main story, providing adequate room for the leads to shine and also coming in as the pillar to keep the story running.
Xo, Kitty Ending
The finale episode of the show leaves the audience with a promise that there will be a sequel, given the way the circumstances have turned out to be. Kitty and Dae have broken up, Kitty almost confessed her feelings to Yuri, Kitty also got expelled from KISS because she was living in the boys' dorm and broke rules of her scholarship. Yuri calls her mother to not expel Kitty from the school, but Kitty is already on the flight home. But since she leaves during the break, it will only make sense that some winds of change will flow in that duration which will allow our dear leading lady to come back to KISS and complete her journey there.
Also Read: Mrs Chatterjee vs Norway Review: Heart Warming Tale of a Mother's Victory Against a Nation
XO, Kitty Cast
The 10-episode series was released on Netflix on May 18, 2023. Xo, Kitty stars Anne Cathcart in the lead as Kitty, Choi Min Young as Dae, Lee Sang Heon as Min Ho, Anthony Eyvan as Q and Gia Kim as Han Yuri. The supporting cast consists of Michael K Lee as Professor Lee, Kim Yun Jin as Principal Lim, Peter Thurnwald as Professor Alex, among others.
WHAT'S YOUR REACTION ON THIS?