TRUMP vs WHO
Did Trump permanently cut all of USA's funds to WHO? Is this the right move to let WHO come clean of its ties with China? Wait, this must also have an effect on the American Medical Association right? To know the answers to these and everything else that happened in #TrumpvsWHO, keep reading.
Yes! Donald Trump, on 30th May 2020 announced that the United States will end its relationship with the WHO and redirect these funds to other "deserving" organisations. Let's begin by briefly looking at what WHO is and does.
The World Health Organization (WHO) is the body of the United Nations (UN) responsible for directing and coordinating international public health. It was established on 7 April 1948 and is headquartered in Geneva, Switzerland.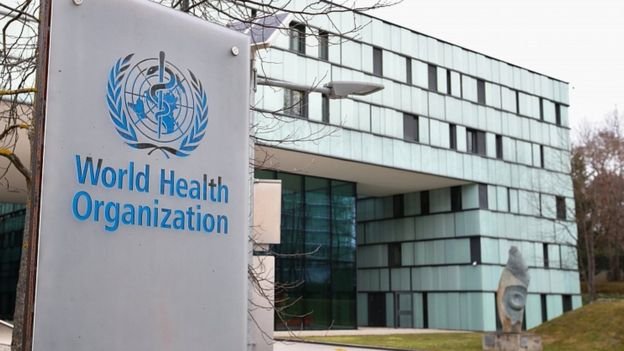 And now, taking a peek at WHO's budget, Funding and finances:
(This information is retrieved from the WHO official site)
WHO's Programme Budget is financed through a mix of assessed and voluntary contributions. Assessed contributions are the dues countries pay in order to be a member of the Organization. The amount each Member State must pay is calculated relative to the country's wealth and population. Remaining amount is mobilized through Voluntary Contributions.
WHO assessed contributions are due and payable as of 1 January from all WHO Member States and Associate Members (currently 194 Member States and 2 Associate Members). Where the total annual assessed contribution for a Member State is USD 200,000 or greater.
US was the largest contributor to the WHO's annual budget of $4.8 Billion, with a whopping $400 Million. Trump has been stressing on this fact on enough and more occasions.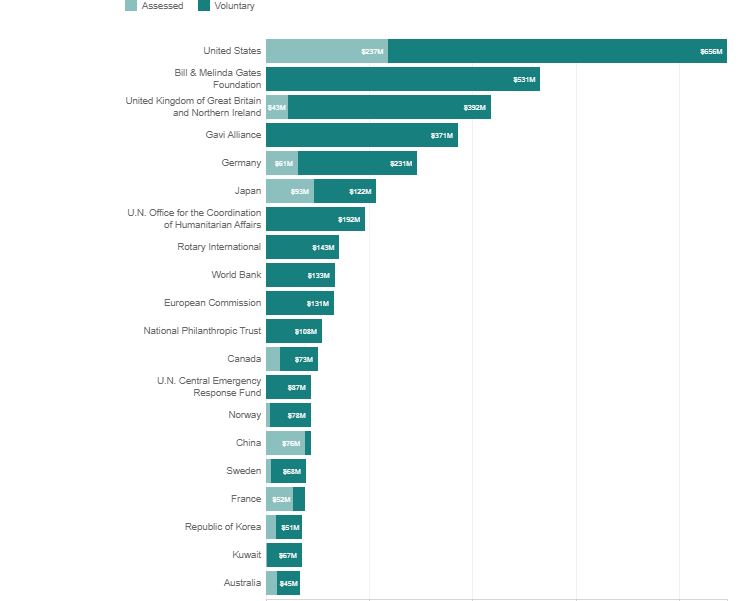 Why?
Trump has never shied away from attacking China or the WHO(whom he thinks China has total control over). On May 19, he penned a four-page long stern letter to the Director-General of WHO, Tedros Adhanom Ghebreyesus, a malaria expert and also the first Non-physician and first African to sit on this chair, and posted images of the same on his twitter handle.
Here's one of the million tweets from Trump thrashing WHO and China.
He had also taken this opportunity to point out its shortcomings in managing the pandemic and accused it of being "too close" to China. "It is clear the repeated missteps by you and your organization in responding to the pandemic have been extremely costly for the world. The only way forward for the World Health Organization is if it can actually demonstrate independence from China," he wrote.
 "My administration has already started discussions with you on how to reform the organization. But action is needed quickly. We do not have time to waste. If the World Health Organization does not commit to major substantive improvements within the next 30 days, I will make my temporary freeze of United States funding to the World Health Organization permanent and reconsider our membership in the organization. I cannot allow American taxpayer dollars to continue to finance an organization that, in its present state, is so clearly not serving America's interests"

Donald Trump, US President
Here's the tweet, containing the letter he wrote :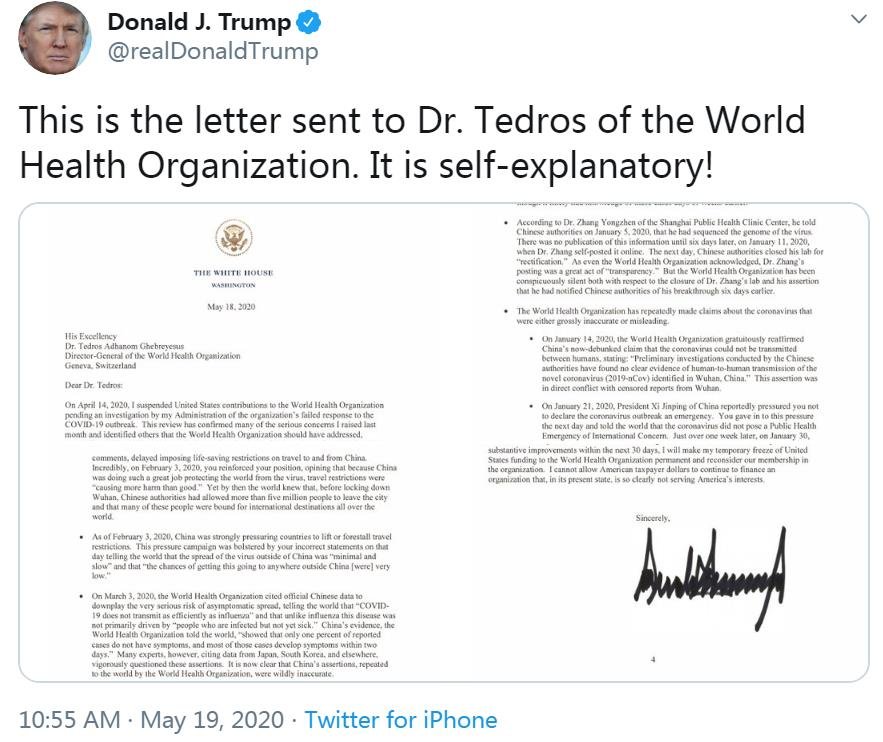 After issuing this ultimatum asking them to produce "substantive improvements within 30 days", Trump hastily froze funds to WHO on the 11th day itself. "We will be today terminating our relationship with the World Health Organization and directing those funds" to other global public health charities, Mr. Trump said in the White House Rose Garden.
Click HERE to view the speech.
Reactions and Backlashes:
1. WHO
"The U.S. government's and its people's contribution and generosity toward global health over many decades has been immense, and it has made a great difference in public health all around the world. It is WHO's wish for this collaboration to continue" Tedros said at a press conference, offering no other comments when pressed further.
2. China
China has Condemned Washington's move, saying it would weaken the coordinated effort needed to contain the Covid-19 pandemic. "The decision of the US will weaken the WHO's ability to handle the pandemic, especially the nations whose capabilities are not well developed" said Foreign Ministry spokesman Zhao Lijian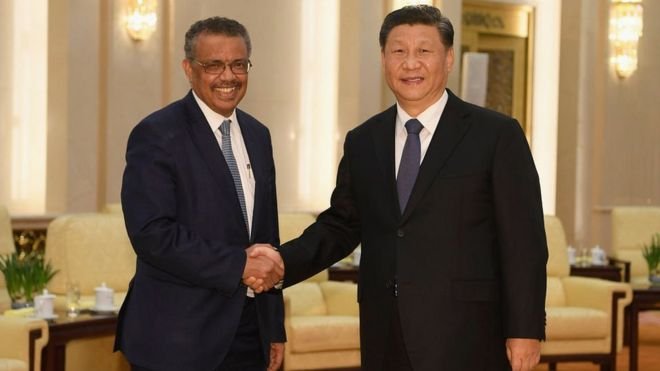 3. The European Union
EU has expressed its concerns over this move and has urged the POTUS to reconsider his decision. European Commission President Ursula von der Leyen said "This is the time for solidarity, not the time for finger-pointing or for undermining multilateral cooperation".
4. Germany's Health Minister
Jens Spahn(Germany's Health Minister) criticized the move, saying it amounted to a "disappointing backlash for international health".
5. The US
US Senate Health Committee :
The U.S. has relied on its partnership with the WHO and other countries to share crucial data and information, including on treatments and potential vaccine development for the coronavirus, as well as other public health threats including HIV and Ebola. Experts cautioned the nation's public health response to the coronavirus and other emerging diseases would lag without that international cooperation.
"Certainly there needs to be a good, hard look at mistakes the World Health Organization might have made in connection with coronavirus, but the time to do that is after the crisis has been dealt with, not in the middle of it," the chair of the Committee said.
The American Medical Association :
The nation's largest physician group has urged Trump in the "strongest terms possible" to reverse the decision. Sen. Lamar Alexander (R-Tenn.), the head of the chamber's health committee, warned canceling U.S. membership from WHO, could disrupt clinical trials for vaccines that will be in high demand around the world.
Despite the backlash from all around the globe, Trump's administration has not responded to the globally rising plea for reversing this decision.
As of now, it is unclear whether Trump needs congressional approval to withdraw from WHO. We would be wrong to not agree with the whole world in saying this unprecedented move would only undermine global efforts to curb this deadly virus. At such uncertain times, the highest donor cutting funds would only lead to a downgrade of services by the WHO. And the global demand to reverse this decision is only growing steadily. Of course, WHO's poor response and its blind eye towards Chinese misinformation (Of letting the world believe Covid-19 doesn't transmit from human-human until late Jan) is to be looked into and severely condemned, but definitely not at times like this when there's a humanitarian emergency!
We would love to hear your thoughts in the comments section below. And do visit Just A Library for more such informative and entertaining pieces!
WHAT'S YOUR REACTION ON THIS?