Coconut Black Rice Pudding Recipe – Kavuni Arisi Sweet – Black rice which is called kavuni arisi in Tamil is high in nutritional value and a very good source of iron, vitamin E and antioxidants. It is a very popular ingredient in South Asia.
The rice is hard, dark black in color and turns purple when cooked. It is not only healthy but also very delicious. The rice needs to be soaked for a long time as it is hard. Though it turns soft as cooked, we get the chewy chunks of rice while eating.
Before we go into the details, don't forget to take a look at the other recipes posted in the Recipes section. Also, follow us with your email address to receive notifications of new posts via email. Let's dig into the making.
| | | | | |
| --- | --- | --- | --- | --- |
| COURSE | CUISINE | RECIPE SERVES | PREP. TIME | TOTAL TIME |
| Dessert | Indian | 4 People | 12 hours | 12.45 hours |
Ingredients for Black Rice Pudding Recipe
200 gms. of Black rice/Kavuni arisi
8 cups of Water
Salt (use as required)
1/2 cup fresh shredded coconut
1 tsp. of Cardamom powder (optional)
200 gms. Jaggery/Sugar
1 tbsp. of Ghee
Preparation – Black Rice Pudding Recipe
Wash 200 gms. of Black rice/Kavuni arisi thrice to remove the dust.
Soak the rice in a bowl with lots of water for 10-12 hours or overnight.
Pressure cook for 7 to 9 whistles. Once the pressure seizes, open the lid of the cooker. Make sure the rice is soft and chewy. If the rice is very old, you may have to keep it for 3 more whistles.
Now add 200 gms. Jaggery/Sugar and the cardamom powder to the rice and cook it in medium flame by mashing with a ladle.
Add 1/2 cup fresh shredded coconut to it and mix well. Cook until it becomes thick.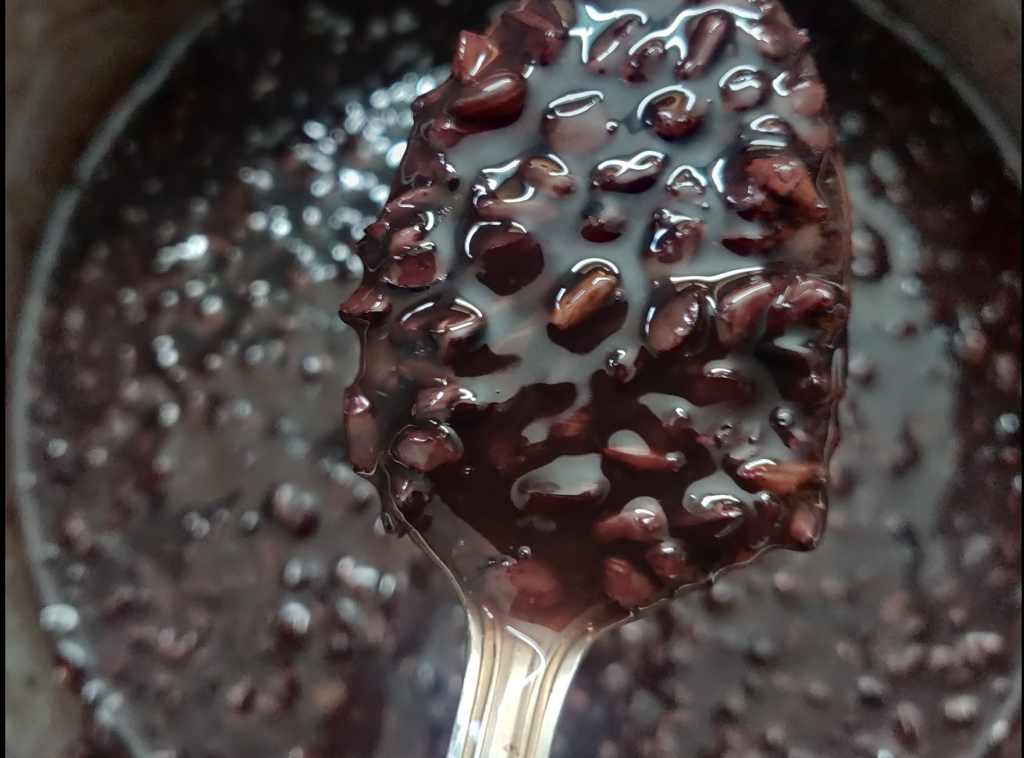 Remove it from the flame and give a nice mix with 1 tbsp. of Ghee.
You can also top it with cashew nuts, almonds, and fruits of your choice and serve it in a bowl as you see in the cover photo.
Traditional Kavuni arisi sweet/Black rice pudding is ready to serve now !! Do try cooking this dessert at your home and let me know your comments below.
Stay tuned and stay updated for more interesting news on various domains from Just A Library !!
WHAT'S YOUR REACTION ON THIS?