Dot and Key Vitamin C Sunscreen Review SPF 50 – I can never ever imagine to skip Sunscreen once I started noticing how beautifully it helped my skin in so many of my concerns. I've been waiting to get my hands on this product for quiet a long time. So, once I had the chance, I straight away grabbed them and I COULDN'T RESIST HOW GOOD THIS SUNSCREEN WORKS! AHH, excitement aside, let me review this product, so you'd make a wiser choice on what to choose.
About Dot and Key – Are Dot and Key Products worth the price?
Dot and Key is an Indian company based on Kolkata. They are one of the fastest growing company from India. They give amazing products over a variety of ranges and collection. They produce products for haircare, body care and skincare. They are also on the affordable side, making it accessible for everyone to get their hands on these products.
Why should you choose Dot and Key SPF 50 vitamin C + E sunscreen?
Light weight
SPF 50 and PA+++ rating offering high sun protection
Non Greasy
Runny consistency
Suitable for all skin types
Provides even skin tone and adds a glow
Fights dullness and pigmentation
Vitamin C that helps in Skin brightening
Vitamin D that helps in absorption
Fragrance free and non comedogenic
Who can use Dot and Key SPF 50 vitamin C + E sunscreen?
This can be used by all skin type but people who have skin tanning, pigmentation, dullness, dark spots and uneven skin tone can see great results.
What's so special about this and other Dot and Key products?
Fragrance free
Alcohol free
Essential Oil Free
Mineral Oil Free
Cruelty Free
Dermatologically tested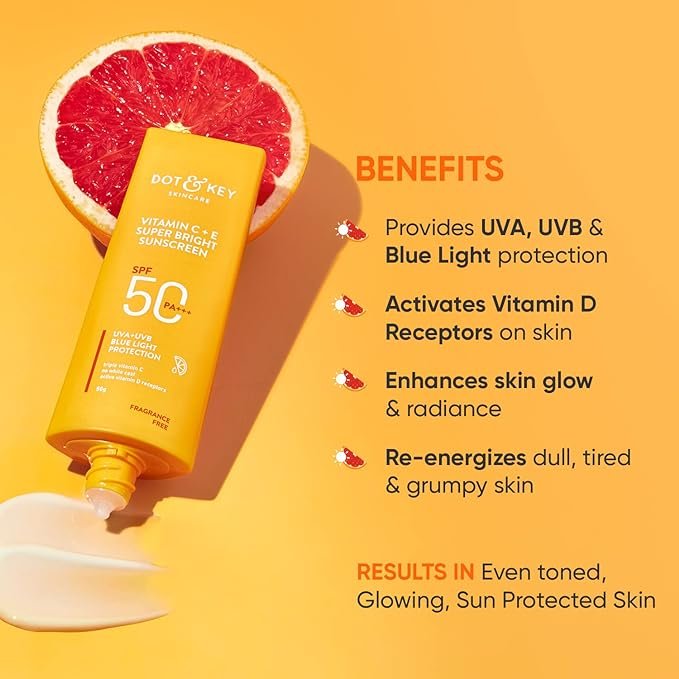 Dot and Key Vitamin C Sunscreen Ingredients
Aqua, Ethylhexyl Methoxycinnamate (and) Butyl Methoxydibenzoylmethane (and) Benzophenone-3 (and) Phospholipids, Diethylhexyl Carbonate, Titanium Dioxide (and) Silica, G
lyceryl Citrate/Lactate/Linoleate/Oleate, Caprylic/Capric Triglyceride, Coco-Caprylate/Caprate, Glycerin, Propanediol, Polyacrylate-13 (and) Polyisobutene (and) Polysorbate 20, Polyacrylate Crosspolymer 6 , Ascorbyl Glucoside , Fructooligosaccharides (and) Beta Vulgaris Root Extract, Tocopheryl Acetate, Terminalia Ferdinandiana (Kakadu Plum) Fruit Extract, Citrus Cinennsis (Blood Orange) Fruit Extract, Phenoxyethanol , Ethylhexylglycerin, Trisodium Ethylenediamine Disuccinate, Xanthan Gum, Citric Acid.
The UV filters used in this sunscreen is Titanium Dioxide, which is one of the safest and and most effective UV filters. It protects from UV-A and UV-B rays and also gives blue light protection.
What does the Dot and Key SPF 50 vitamin C + E sunscreen do? How does Dot and Key SPF 50 vitamin C + E sunscreen work?
Provides UV-A, UV-B and blue light protection.
Allows better Vitamin D absorption, since it has vitamin D receptor.
Enhances skin glow.
Fights free radical damage to prevent early signs of ageing.
Triple vitamin C formula, fights sun induced pigmentation.
Other Variants
Vitamin C + E SPF 50 Sunscreen – infused with Triple Vitamin C, Sicilian Blood Orange & UV Filters, blocks UV-A, UV-B & blue light rays, reduces dullness and dark spots.
Watermelon cooling SPF 50 Sunscreen – infused with watermelon, hyaluronic acid and UV filters, Blocks UV-A + UV-B +blue light rays, reduces tanning & sun damage, provides cooling, luminous and protected skin.
Cica & Niacinamide SPF 50 – made specially for oily, acne-prone and sensitive skin, has hybrid UV filters, blocks UV-A & UV-B rays, soothes inflammation and redness, fades acne spots.
Dot & Key Swim + Sports Sunscreen SPF 50 Sunscreen – infused with essential ceramides and Japanese rice water, is water resistant for up to 120 minutes, reduces chlorine water rash and dryness, prevents tanning and sunburn.
Dot and Key Vitamin C Sunscreen Review – Dot & Key Vitamin C + E SPF 50 Sunscreen Review – My Experience
I was super late to try this cult favourite sunscreen that everyone was talking about and that is my only regret about this.
Let's start from the packaging. It comes in a vibrant yellow packaging, perfectly matching to the aesthetics of vitamin C, with some cute doodles. They are very transparent in mentioning the ingredients and details which is a really appreciable character for a brand that wants to deliver transparency to its customer. It comes in a tube like packaging with a small nozzle, that automatically dispenses the product, you don't have need to squeeze it which is again a pro. It is travel friendly as well and fits everywhere.
The sunscreen is white, not tinted, leaves no white cast. It is suitable for all skin types. This sunscreen has triple Vitamin C concentrate, that helps in skin brightening, reduces tanning, dark spots and pigmentation. It also adds glow to your face, making it look dewy and also sets as a matte coverage when you top it off with powder. The consistency of this sunscreen is highly commendable. Its runny, lightweight, extremely comfortable to use and sits well on the skin. It takes less than 10 seconds to blend the sunscreen, perfect for people who are super lazy when it comes to getting ready (Just like me, yeah).
This sunscreen does not pile up. Most people experience piling when they add too much of a product and not able to blend it or when they apply it right after the moisturizer not giving time for the moisturizer to settle in. If you avoid these situation, most sunscreens won't pile up. With SPF 50 and PA +++ rating, this offers high sun protection blocking up to 98 percentage of UV Rays. It did not cause any irritation to my skin or eyes unlike some sunscreens I used before. Its affordable and can be grabbed for combo deals with great offers during sale! This sunscreen will always be my go to, no matter how many new ones I try! Etched forever in my heart and skincare routine.
Dot and Key Vitamin C Sunscreen Review – FAQs
Is Dot and Key sunscreen good for all skin types?
Yes, its suitable for all skin types.
What is the use of dot and key sunscreen?
Offers sun protection, prevents tanning, reduces dullness and dark spots.
How long does dot and key sunscreen last?
It is usually printed in the pack. Mostly, with a shelf life of 2 years from date of manufacturing. Available at Amazon, Myntra, Nykaa and Dot and Key website.
Dot & Key Vitamin C Sunscreen – JAL Rating
JAL gives a solid 5/5 for this amazing product. Great formulation and performance at a very affordable range. It is one of the best product, produced in the Indian Market and please go for this absolute gem of a product.
Let us know how much you liked this and share it with your friends and family. Don't forget to read our latest article on the website and by the author. Do let us know how much you liked it in the comments below. Follow us on our socials and subscribe to our newsletter.
LIKE WHAT YOU READ? WHY NOT SUBSCRIBE?
---
WHAT'S YOUR REACTION ON THIS?