Twinkling Watermelon Review – Twinkling Watermelon, one of the most underrated K-dramas of 2023, stands out with impressive ratings—a remarkable 9.8 on Viki, 9.1 on IMDb, and a solid 9.2 on Mydramalist.com. In a year filled with dramas, this one shines brilliantly! So, fasten your seatbelts for a thrilling journey back to the Seoul of 1995, exploring what sets this K-drama apart and makes it truly special!
Twinkling Watermelon Trailer
Twinkling Watermelon Plot/Summary
Twinkling Watermelon follows the heartfelt journey of Ha Eun-gyeol, a Child of Deaf Adults (CODA) whose life takes a turn when entangled in school bullying due to his family background. In his distress, Eun-gyeol encounters 'Master,' who introduces him to the vibrant world of music, offering him solace in times of turmoil. Being the sole member of his family with the gift of hearing, Eun-gyeol's deep sense of commitment to his loved ones compels him to sacrifice his personal freedom.
A rift with his father, Ha Yi-chan, leads to an inexplicable twist in Eun-gyeol's life—he mysteriously travels back in time, encountering an 18-year-old Yi-chan who appears healthy unlike his 2023 self where he is devoid of all kinds of sounds. This unexpected occurrence prompts Eun-gyeol to seek answers regarding his father's hearing loss and social isolation. Driven by this question, he embarks on a quest to uncover the truth about his parents, forging endearing friendships and creating memories along the way.
Also Read – Arthdal Chronicles Season 2 Review: Will the Prophecy Come True?
Twinkling Watermelon Review – Is Twinkling Watermelon worth watching?
Twinkling Watermelon presents itself as a refreshing K-drama, echoing its vibrant title in the most delightful way. At the heart of this show lies a resounding theme: 'Viva La Vida' or 'Long Live Life.' Inspired by the renowned Mexican artist Frida Kahlo's last painting before her passing, also titled 'Viva La Vida,' the series pays homage to a celebration of life amid adversities. References to Kahlo and her iconic painting are intricately woven throughout the storyline – from Yoon Cheong-ah's admiration for Kahlo as her favorite artist to the band's name 'Watermelon Sugar' and its logo, a watermelon painting inspired by Kahlo. In essence, the show serves as a tribute to Kahlo and the essence of life itself.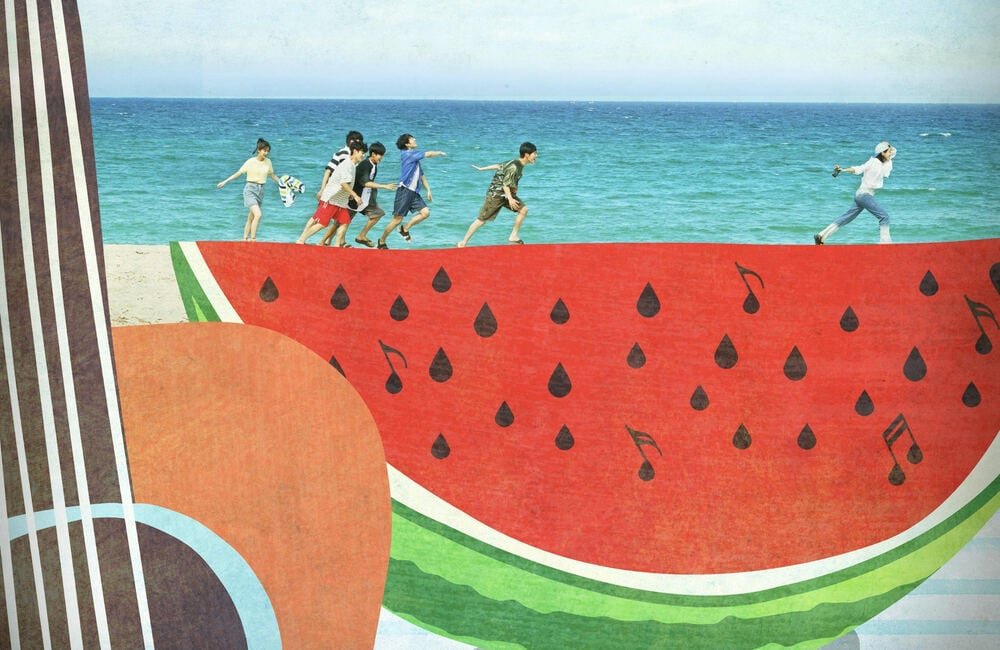 Moreover, 'Twinkling Watermelon' pays homage to various forms of art. Cheong-ah, an aspiring artist, finds solace and healing in her creative expressions, showcasing how art serves as a powerful tool to mend deep wounds and connect people in their life journey. Her sketches in the dark room symbolize her resilience and determination to survive through her artistry.
Eun-Gyeol discovers freedom in music after experiencing bullying, while Yi-Chan finds purpose and youthful enthusiasm in forming a band. Throughout the series, music and art intertwine, uniting the characters like a family, granting them meaning, solace, and aiding in their individual healing processes.
Also Read – Strong Girl Nam Soon Review: A Superhuman Family Straight out of A Comic Book for You!
The sensitivity of 'Twinkling Watermelon' lies not only in portraying the challenges faced by individuals dealing with extraordinary circumstances but also in raising awareness about these issues. Cheong-ah's inability to hear and her forced isolation paints a stark picture of how society treats extraordinary needs of people. Her step-mother's denial of her right to express herself through sign language along with repeated abuse, exacerbates her isolation and trauma, magnifying the struggle for personal identity and freedom.
The show intricately weaves together the contrasting notions of sound and silence. Just like a CODA is a beautiful ending of a musical piece, tying all it's aspects together, Eun-Gyeol, as a CODA, stands as a beautiful bridge between his family's world of silence and the realm of sound and music. He becomes a CODA for both his parents, transforming their lives and suggesting a beautiful conclusion.
In essence, 'Twinkling Watermelon' encapsulates a heart-warming narrative—a must-watch for enthusiasts of feel-good stories centered around love, life, family, and friendships. It will definitely brighten your days of darkness and fill them with a warm tinge of hope and joy. Catch Twinkling Watermelon on Viki. Viva La Vida, Long Live Life!
JAL Rating – Is Twinkling Watermelon happy ending? Is Twinkling Watermelon worth watching?
For its beautiful, feel-good plot, great characters, brilliant acting, we give this kdrama a solid 9.5 out of 10!
LIKE WHAT YOU READ? WHY NOT SUBSCRIBE?
---
You might also like to read
WHAT'S YOUR REACTION ON THIS?